January 11th, 2016 /
March 24th, 2020
Redrawing the Map of the Middle East to Defeat the Islamic State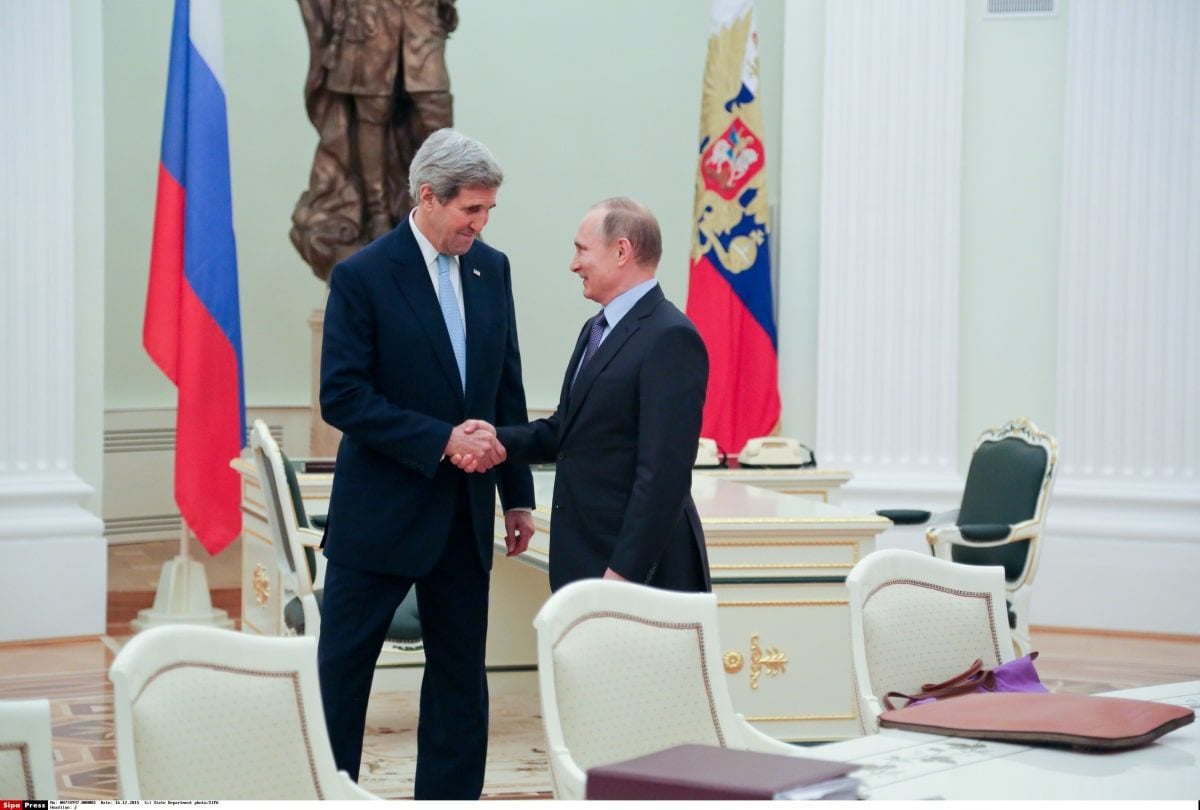 The key emerging alliance in 2015 in the Middle East is the one between historic rivals, the US and Russia. With backing from key European nations, such as France, the UK, and Germany, the influential world powers seemed to agree to give priority at this stage to fighting the extremist Islamic State (IS), which has expanded its targets in an unprecedented manner and is no longer only a distant, regional threat.
After lengthy meetings in Moscow in December 2015 between the US secretary of state John Kerry and the Russian president, Vladimir Putin with his foreign minister, Sergei Lavrov, the Security Council voted unanimously for the first time in five years on a resolution that has set a timetable to end the conflict in Syria and form a new government. While easier said than done, this was the first time since the outbreak of civil war in Syria that Russia did not use its veto power at the Security Council to prevent the adoption of a resolution with a plan to end the Syrian war.
The United States, Russia, and Europe also pressured warring parties to begin reconciliation talks in Libya and Yemen,  countries where internal chaos has allowed IS and al-Qaeda to flourish and establish safe havens, posing a threat to the region, Europe, and the United States, whether by terrorism or by the flood of refugees. The crash of a Russian plane shortly after takeoff from Sharm El-Sheikh on 31 October 2015, killing all 224 people on board in a terrorist attack claimed by IS; the terrorist attacks in Paris on 13 November 2015 in which 130 people were killed, also claimed by IS; and the shooting in San Bernardino, California by two IS sympathizers obviously convinced world powers that they needed to act immediately to defeat the extremist group in Syria and Iraq.
However, the most serious challenge that will confront those renewed efforts will be convincing competing regional powers to cooperate and agree to overcome deeply rooted ethnic, religious, and historic rivalries that have kept the wars going in Syria, Iraq, Libya, and Yemen since the beginning of the Arab Spring in early 2011. Egypt and Tunisia, which triggered the wave of Arab revolutions against authoritarian presidents that had dominated the scene for decades, also suffer severe security, political, and economic problems. Yet they remain in one piece, without daily shelling and bombing or calls for an international peace force to monitor a ceasefire, as is the case in Syria, Libya, and Yemen.
The disintegration of the so-called "national state" after the downfall of the Iraqi president Saddam Hussein in 2003 following the US invasion and occupation, the violent removal of Muammar Gaddafi,Libya's leader for over more than 40 years, and civil wars in Syria and Yemen have opened the door wide to the intervention of regional powers to reshape this volatile part of the world and even redraw the maps of its countries that were defined a century ago by the former colonial powers, Britain and France.
The main regional powers that are competing for domination and fuelling the continuing wars are Iran, Turkey, and Saudi Arabia. Small, oil-rich Gulf states, especially Qatar and the United Arab Emirates, have also emerged in recent years as important players, mainly by financing various warring parties in Syria, Libya, and Yemen. Yet, their influence remains limited compared to that of the three main regional powers, whose consent is necessary to give priority to fighting IS and other terrorist groups, as the US, Russia, and Europe demand.
Sectarian Tensions
In a surprising move, Mohamed Bin Salman, the Saudi crown prince and defence minister, held a news conference at 2 a.m., Riyadh time, on 15 December 2015 to announce the formation of a so-called Islamic Alliance to fight "terrorist organisations" in the region. All the countries listed by the Saudi prince were "Sunni" nations; Iran and Iraq, with Shiite majorities, were excluded from the alliance. Both Tehran and Baghdad criticized the new alliance sharply, saying it only fuelled the growing sectarian war in the region.
The irony was, however, that several key "Sunni" countries listed by Saudi Arabia as members of the Islamic Alliance declared that they had not been consulted in advance and had no plans to send troops to fight under a joint command led by Riyadh, as stated by Mohamed Bin Salman. Egypt, Pakistan, Turkey, Indonesia, Nigeria, Oman, and Lebanon, all countries that receive generous Saudi financial support in varying degrees, said they welcomed the Saudi effort but that they needed more time to discuss the proposal.
Under the leadership of Recep Tayyip Erdoğan, a Sunni president known for his predisposition towards political Islamic groups, Turkey does not seem to be willing to anger its neighbour Iran by offering troops for the Saudi-led alliance, although it confirmed its membership in the alliance.
Turkey and Iran enjoy thriving economic ties, and the two are deeply concerned by the growing tendency of Kurdish minorities in their countries to form an independent state with their counterparts in Iraq and Syria. Despite extensive coordination between Turkey and Saudi Arabia, Ankara is unlikely to accept being led by Riyadh as a regional power. Turkey also prides itself on accepting diversity and has its own Shiite minority, so it is unlikely that it will join such an overtly sectarian alliance.
The complicated rivalries among Turkey, Iran, and Saudi Arabia and the increasingly sectarian outlook of the conflict in Syria opened the door for proposals to redraw the borders of the region's countries, perhaps going as far as to suggest the establishment of both a new "Sunni" state in areas now under the control of IS in Syria and Iraq and a Kurdish state. While countries such as Libya do not suffer the kinds of sectarian division that prevail in Syria, Iraq, and Yemen, these are replaced by tribal and regional rivalries that open the door to possible divisions of the countries.
Bernard Bajolet, head of France's Direction Générale de la Sécurité Extérieure, said the region was not likely to return to its old self following the current conflicts. "The Middle East we have known is over, I doubt it will come back," he told an international conference in Washington in November. "We see that Syria is already divided on the ground, that the regime is controlling only a small part of the county, only one-third of the country which was established after WWII," he said. "The north is controlled by the Kurds." "We have the same thing in Iraq" Bajolet said, adding that "I doubt really that one can come back to the previous situation." Nonetheless, he said he was "confident" that the region would one day stabilize again.
The US vice president, Joe Biden, while serving as US senator from Delaware, supported the division of Iraq into three states—Sunni, Shiite, and Kurdish—in order to contain the failed invasion of the country ordered by former US president George W. Bush in 2003. He gave up such demand after taking his new position in the administration of President Barack Obama, and Turkey, for instance, will do everything possible to prevent an independent Kurdish state. Many analysts now believe, however, that the classic rhetoric of maintaining "the territorial integrity and unity" of modern nation states in the Middle East region might be a thing of the past and will not contribute to meeting the key target of defeating IS. Many wonder whether such scenarios were on the table when Kerry and Putin held their meeting in Moscow on 15 December 2015.
Further Reading
In-depth Special file concerning the international affairs of the Middle East and North Africa.
At present, tensions exist between Islam's biggest sects, the Sunnis and Shiites, in part as a consequence of a power...
© Copyright Notice
Click on link to view the associated photo/image:
©Hollandse Hoogte ⁃ State Department photo/SIPA | ©Fanack
We would like to ask you something …
Fanack is an independent media organisation, not funded by any state or any interest group, that distributes in the Middle East and the wider world unbiased analysis and background information, based on facts, about the Middle East and North Africa.
The website grew rapidly in breadth and depth and today forms a rich and valuable source of information on 21 countries, from Morocco to Oman and from Iran to Yemen, both in Arabic and English. We currently reach six million readers annually and growing fast.
In order to guarantee the impartiality of information on the Chronicle, articles are published without by-lines. This also allows correspondents to write more freely about sensitive or controversial issues in their country. All articles are fact-checked before publication to ensure that content is accurate, current and unbiased.
To run such a website is very expensive. With a small donation, you can make a huge impact. And it only takes a minute. Thank you.