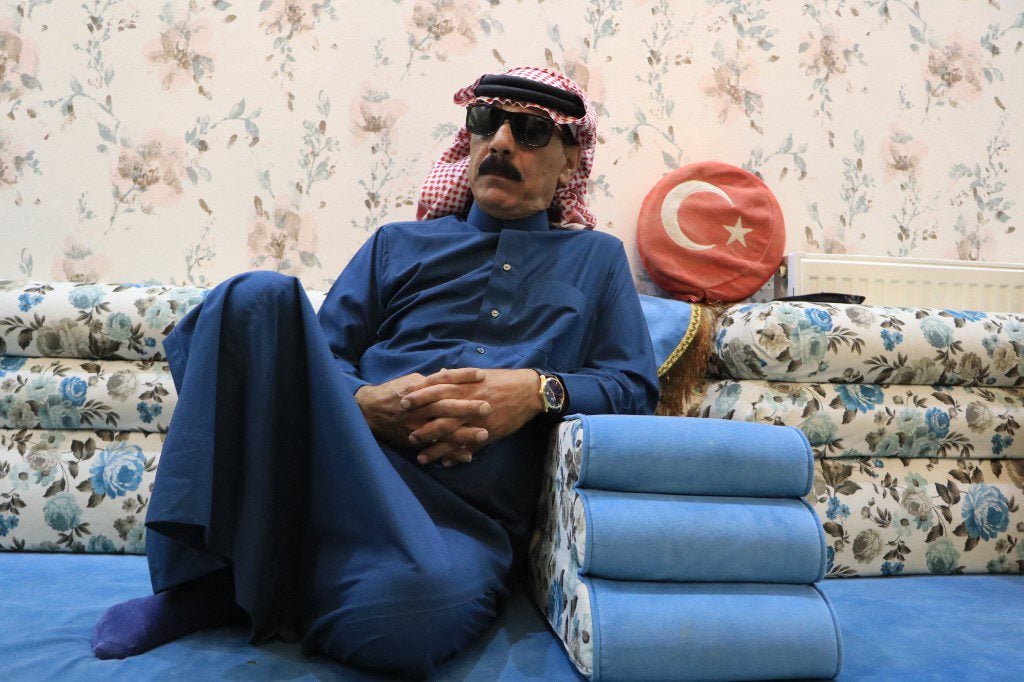 None of the fans of the world-renowned Syrian singer Omar Souleyman, aka "Caesar", expected to see him handcuffed and accused of "belonging to a terrorist organisation".
That is what happened with Souleyman, who was recently released after two days of detention in Şanlıurfa. Immediately after the singer's arrest, Turkish media reported that the Gendarmerie had arrested him on charges of belonging to the Kurdistan Workers' Party (PKK), which is classified as a terrorist organisation in Turkey, and that the state has been fighting for many years.
Upon his father's arrest, Souleyman's son confirmed that what was happening was caused by a malicious report, a well-known and widely used term in Syria. A person writes a report accusing another person of being hostile to the state or belonging to an opposition organisation because of a personal disagreement, resentment, or even jealousy. The state responds to the report and arrests the person, who will at least be subject to detention, interrogation, and possibly beating, and subsequently will be released if the allegation is not proven.
Because of the abundance of reasons that justify the arrest of Syrians in Turkey, analysis and speculation regarding Omar Souleyman's arrest differed. Some believe it is because sometimes he sings in the Kurdish language and uses Kurdish words in his Arabic songs, including the use of the name Öcalan in one of the romantic songs, who is the leader of the PKK and has been imprisoned in Turkey since 1999.
Others said that Souleyman has connections with the Syrian regime, a reason that may have subjected him to arrest. Syrian singers were previously arrested during their visits to Turkey for their support to the Syrian regime and criticism of the Turkish President Recep Tayyip Erdoğan, such as Naim al-Sheikh and Ali al-Deek.
For Souleyman's Syrian fans, who are aware of details of his life and artistic experience, his arrest was resentful and even ironic. The irony is that the Syrians know that he is a simple man and does not discuss politics. It is also known that Souleyman is far from all quarrels, disagreements, and opposing parties, and he even evades explicitly declaring a direct political position.
Even his accusation of supporting the Bashar al-Assad regime was not the result of direct and repeated statements, such as the famous Syrian singers who have supported the Syrian regime since 2011. Instead, he was accused because he refrained from declaring his support for the revolutionary movement against the Assad regime in Syria, because he doesn't utilise his voice for political agendas, and because of his statements rejecting the war, which favours returning to the homeland over freedom.
That was stated in one of his songs that he sang in Istanbul more than two years ago, which received angry reactions from his Syrian fans in Turkey at the time.
International Fame
Omar Souleyman sings in the 2013 Nobel Peace Prize Concert. The concert is a musical tribute held annually on 11 December to honour the year's Nobel Peace Prize Laureate.
Omar Souleyman's arrest gained publicity in the international media and was discussed by his Arab and non-Arab fans. Souleyman has a reputation in Europe and the USA that any Arab singer rarely matches. This fame came during the previous years from two sources, the first of which was his integration of techno music into the folkloric music of the Syrian Jazira region. This mix may seem unprofessional and simple at times. Still, it resonates with a large audience segment that loves folkloric music when it comes out of its local environments and be put into templates suitable for nightclub parties and music festivals.
The second source is represented in his traditional costume, which he preserved with the Jalabiya and the Agal, in addition to dark black sunglasses that he wears day and night, which gave him a unique charisma that all his fans love especially non-Arabs.
Souleyman received special treatment from the West that he did not receive in either his own country or Turkey, as he sang at the Nobel Peace Prize ceremony in Oslo, alongside the famous James Blunt. He also worked with international singer and actress Björk on their duet Crystalline. Grammy-winning producer Ian Brennan said that Souleyman offers one of the greatest genres of music in the world. Souleyman also sang in major festivals in Europe, USA and Australia. His news and pictures invaded international newspapers, who viewed him as a singer from the depth of the Arab Bedouin heritage, presenting his art in a modern form, capable of filling halls with audiences, moving bodies with Dabke and dancing for long hours.
Souleyman's global status and fame received extensive criticism from Syrian journalists and writers. These writers believe that he is promoting a poor kind of art and a distortion of the local heritage, presented in proportion to the taste of foreign teenagers who look at Souleyman and his art with an orientalist mentality. Furthermore, he is nothing more than a singer at local weddings in the Jazira region, who conveyed these wedding songs to the West with his traditional costume, and so his songs were viewed as the Arab heritage that Souleyman appropriately displays to the West.
In a simple analysis of Omar Souleyman's songs, we can say that he comes with a bundle of traditional melodies and songs from the heritage of the Jazira region where he grew up. Some of those songs are Arab, and some are Kurdish, as the Ras al-Ayn region where he grew up includes a mixture of Arabs and Kurds.
He adds electronic music to it and sings it out, adhering to his unchanging outfit, the strictness of his features and the absence of a smile. With these components, in addition to professional marketing and publishing, it is no wonder Souleyman obtained such fame. Even more, he is called "King of Techno" or "King of Relaxation" by foreign newspapers, not to forget "Cesar" by his Syrian fans.
Turkish Pressure
Among the issues raised by the arrest of Omar Souleyman and the spread of news and rumours about it on social media and in the international press was the widespread arrest of Syrians in Turkey on various charges and allegations. Most of these allegations are unfounded, such as belonging to terrorist organisations or supporting military forces inside Syria.
Meaning that the security apparatus in Turkey arrests and detains based on any passing reports or mere suspicions, which, day after day, raises fear in the hearts of Syrians in Turkey. Seeing any policeman patrolling can terrify the refugee, who has no law to protect him from arrest. Perhaps the bananas problem, which preceded Omar Souleyman's case by weeks, clearly indicates the lack of a law protecting Syrians in Turkey.
In some cases, Syrians might be arrested because of videos they posted on their profiles on social media platforms while eating bananas. A good example is when a Turkish citizen stated to a TV program that Syrians could buy bananas while the Turkish people could not. That issue turned the whole case into a satirical context. Syrians recorded videos in which they ate bananas. Some considered the videos as ones that provoked the authorities, which in turn arrested them.
Omar Souleyman, who in 2019 opened a bakery to distribute bread to Syrian refugees for free in the Turkish region of Akçakale on the Syrian border, and who tries to remain neutral every time he is asked to take a political position, has many haters indeed.
Some hate his art and way of presenting heritage, and some hate his neutrality and concealing his position to avoid losing any party. On the other hand, he has a lot of fans around the world, from Turkey to all different countries. Every concert he held in any of these countries has sold out in a matter of hours. His arrest for a short period was an incident that put forward several questions. The first of these questions is the following: Why are the Syrians being arrested in Turkey?