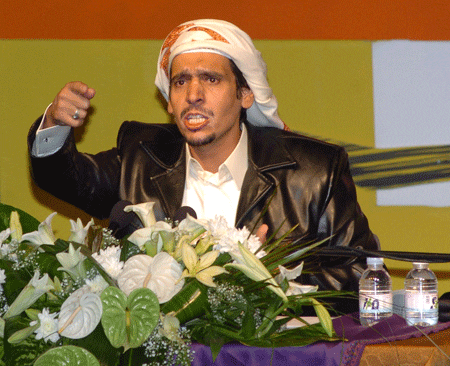 Who am I? Don't ask the days about me —
I'm nothing but a prisoner
in an isolation cell
'Poem from a Prison Cell'
The Qatari poet Muhammad ibn al-Dheeb al-Ajami, a third-year literature student at Cairo University, was arrested on 16 November 2011 in Doha on charges of insulting the Qatari Emir, Sheikh Hamad bin khalifa al-Thani, and for inciting to overthrow the ruling regime. The latter carries a maximum sentence of death. Al-Ajami was originally jailed for life, but the sentence was reduced to 15 years on appeal. A father of four, al-Ajami's youngest child was born while he was being held in solitary confinement. His lawyer, Najib al-Nuami, said the prosecution was politically motivated, and human rights groups assert that the trial itself was 'marred by irregularities, with court sessions held in secret'. Furthermore, activists condemned the ruling as a breach of al-Ajami's right to free speech.
Amnesty USA noted, 'The prosecution is reported to have brought the charges in relation to a poem he wrote in 2010 in which he criticized the Emir.' PEN America, a not-for-profit dedicated to the promotion of free expression, added that the poem was never written down, but only recited in response to another poet 'in a private poetry slam among friends at Cairo University in August 2010', and that it was secretly posted online after one of the attendees recorded the performance.
Most human rights activists in the Gulf, however, indicated that the charges of 'inciting to overthrow the ruling regime' and 'insulting the Emir' specifically refer to al-Ajami's second poem, 'Tunisian Jasmine', written in 2011 in the context of the Arab Spring and posted on YouTube. In 'Tunisian Jasmine', al-Ajami expresses support for the uprisings. He writes, 'So, rebel, tell them, / tell them in a shrouded voice, a voice from the grave: / tell them that tragedies precede all victories.' The poem continues: 'A warning to the country whose ruler is ignorant, / whose ruler deems that power / comes from the American army.' Although specifically referring to Tunisia's revolt – provoked by the self-immolation of Mohammad Bouazizi on 17 December 2010 – al-Ajami spells out his ire toward all Arab states 'without exception' in the same poem:
All of us are Tunisia
in the face of these oppressors.
The Arab regimes and those who rule them
are all, without exception,
without a single exception,
shameful, thieves.
'Tunisian Jasmine'
Qatar's government sought the service of three poetry experts who work in its ministries of culture and education to determine, in a secret trial, the meaning of the poem. Al-Ajami was promptly prosecuted based on their 'near-identical testimony'. The charges caused an international outcry as human rights groups demanded that the sentence be overturned.
Nevertheless, al-Ajami remained steadfast. While incarcerated, he wrote 'Poem from a Prison Cell', in which he paints an optimistic picture of his case:
Tell your children, east and west
—and keep telling them, until
the birds sing it in the branches—
that a people without opinions
is nothing but a herd that's thirsty
yet blind to the nearby oasis
'Poem from a Prison Cell'
'Poem from a Prison Cell', which was posted on YouTube on 25 February 2016, was recited at a protest staged on behalf of al-Ajami, who was still in prison, by representatives of Farrago Poetry, Amnesty International and English PEN, in front of Qatar's embassy in London. Al-Ajami declares in the poem: 'These disgraceful chains / are power in my hands, not power / for those who lord it over me.'
Despite the poet's conviction and resolve, he received a royal pardon from the Emir and was released on 15 March 2016, having served three years of his 15-year sentence. The Guardian hinted that the pardon was linked to Qatar's reputation as host of the 2022 FIFA World Cup, whereas The Art Newspaper offered a more plausible theory. It suggested that the pardon came 'after a storm of criticism from human rights groups and the UN about limits to free speech in the country, which has touted itself as a supporter of the arts. The poet's release also comes at the end of a conference organized by The New York Times in Doha on the topic of art for tomorrow, and days before the International Press Institute is due to host its world congress in the Qatar capital on Saturday.'
In spite of al-Ajami's release, censorship and persecution of artists in the Gulf continues. For instance, the 20-year-old Bahraini poet, Ayat al-Ghermezi, was charged in March 2011 with insulting the ruling family. Although she was released from prison in July, she remains under house arrest. Her crime was reciting an anti-government poem 'at the Pearl Roundabout in Manama, the epicentre of the street movement until it was destroyed by the authorities', in which she said: 'We are the people who will kill humiliation and assassinate misery / We are the people who will destroy the foundation of injustice / Don't you hear their cries, don't you hear their screams?'
Or consider the fate of Ashraf Fayadh, a Palestinian who grew up in Saudi Arabia. On 17 November 2015, the Saudi authorities charged him with apostasy, for which the penalty is death. The original prosecution referenced comments he made in online forums as well as a specific claim 'in a volume of his poetry entitled Instructions Within and published in 2008. One of the poems in the collection was alleged to have shown that the poet had renounced Islam. He was also accused of using his poetry to spread atheist thinking.' While the death sentence was revoked in February 2016, Fayadh was later charged with having 'inappropriate relations with the other gender'. He was sentenced to eight years in prison and 800 lashes. Consequently, even after the royal pardon, al-Ajami's words are as pertinent as ever:
This question that keeps you up at night —
its answer won't be found
on any of the official channels…
Why, why do these regimes
import everything from the West —
everything but the rule of law, that is,
and everything but freedom?
'Tunisian Jasmine'