March 12th, 2019 /
July 29th, 2020
In Lebanon, LGBT+ Activities Are Under Constant Threat
2018 has been a dark year for LGBT+ groups in Lebanon, who saw their organised events closed and canceled repeatedly by the authorities. Because of "immorality" or "indecency", every effort to communicate, educate and gather around LGBT+ and gender equality themes are prevented from happening.
The crackdown on LGBT+ events has been so important that it has pushed the international organization Human Rights Watch (HRW) to file a complaint in the United Nations for discrimination and attempts against freedom of expression, assembly and association in Lebanon. The complaint said: "We write to you on behalf of Human Rights Watch to raise concern regarding the violations committed by Lebanese security forces against human rights defenders working on issues related to sexual orientation and gender identity (SOGI) in Lebanon. Lebanese General Security Forces and Internal Security Forces, in violation of multiple international human rights protections, have repeatedly interfered with human rights events related to gender and sexuality based on spurious 'morality' claims."
HRW had first tried to get in touch with the Lebanese General Security's director Major General Abbas Ibrahim in October 2018, in a letter to which he responded on November 26, citing the so-called "morals" exception under Article 21 of the International Covenant on Civil and Political Rights (ICCPR) on the right of peaceful assembly. He claimed that the article requires an event "to be consistent with the moral standards of the particular society," and maintained that "the topic of the conference remains controversial in Lebanese culture". Since then, efforts have been made by HRW to organise a meeting with Lebanon's General Security, without success so far.
"The past year, we have seen an increase on attacks on LGBT+ events and activists", Aya Majzoub, the Lebanon and Bahrain Researcher for HRW, told Fanack. "It's mainly from pressure from religious authorities, like the Muslim Scholars Association, and it's unclear why it has so much influence over the authorities. For example, they accused the organizers of the annual NEDWA conference of the Arab Foundation for Freedoms and Equality, [AFE, which works to advance lesbian, gay, bisexual, transgender (LGBT) and other human rights] of promoting homosexuality and drug abuse. The association called for the organizers' arrest and for the cancellation of the conference on the grounds of 'incitement to immorality'."
Late on the conference's third day, officers from the General Security arrived at the hotel where the conference was being held and questioned AFE executive director Georges Azzi, ordering him to cancel the conference and sign a pledge to cease any activities related to the conference. When Azzi refused, the officers ordered the hotel to shut down the conference. They then proceeded to note the personal details of all conference participants from the hotel registry, including those who came from highly repressive countries such as Egypt, where, in 2017, police arrested over 100 people for being gay or transgender, and Iraq, where armed groups have murdered LGBT people with impunity. AFE managed to hold the last day of the conference, but at a different hotel. The conference was not only on LGBT+ issues but also on gender equality, human rights, health, and arts. HRW has since then received notifications that several participants from different countries had been banned from re-entering Lebanon, without any reason given to them.
In May 2018, Beirut Pride initiator Hadi Damien was also arrested during the second edition of the Beirut Pride Week, from May 12 to 20. The Beirut Pride, nine days of activities aimed at celebrating lesbian, gay, bisexual, and transgender identities, was scheduled to coincide with the International Day Against Homophobia and Transphobia (IDAHOT) on May 17, with events including a queer poetry reading, a karaoke night, a discussion around sexual health and HIV, and a legal literacy workshop. However, on May 14, Internal Security Forces raided an LGBT-themed theater reading and summoned Beirut Pride organizer Hadi Damien to the police station, where he was held overnight. Damien said the Vice Squad interrogated him, told him that the public prosecutor had banned Pride week, and pressured him to sign a statement calling off all further Beirut Pride events or face charges of "incitement to immorality" and "breach of public morality." Beirut Pride subsequently issued a statement suspending the events.
"The more organized you are, the more people perceive you as a threat and retaliate against you", Hadi Damien told Fanack. "Visibility and organization lead to hostile reactions. Nothing exceptional: this is the reality of all societal files of all times".
Indeed, LGBT+ groups had managed to get some small victories in the country during the past few years, through legal decisions like in 2007, when a judge wrote that human actions cannot be seen as contradicting nature "even if the act is criminal or offending", therefore setting free a person accused of "sexual intercourse contrary to nature" according to Article 534 of the Penal Code. In 2017, an appeal court decided to uphold an acquittal on the "unnatural offenses" charges of nine people, most of them transgender. In 2013, a small step forward came from the Lebanese Psychiatric Society (LPS) and the Lebanese Psychological Association (LPA) when the medical bodies affirmed that homosexuality is not a disease, and that attempts to change a person's sexual orientation are both futile and harmful.
But in January 2019, the gay meeting application Grindr was banned from Lebanon by a decision from the Ministry of Telecommunications. "Grindr was initially intended to facilitate men seeking men, but it developed in the last few months to provide digital sexual health education and to promote articles and publications", Damien told Fanack. "Some speculated that the application was blocked in the frame of the Arab Summit of January 2019 in Beirut. Some considered it a preventive measure as some guys were creating fake profiles to lure gay men and rob them. Some others associated the ban with a Grindr-sponsored conference that took place in October 2018." Damien added that the symbolism of this ban is manifold: "First, it proves, once again that authorities are using the law in a misinformed way. Second, the secrecy around the ban is improper. It tries, once again, to block channels of communication between authorities and the citizenship. Third, by banning the use of Grindr on the public network and confining it to the private internet network (wifi), authorities send a message that gay affairs only happen behind closed doors and that public debate on the matter will be challenged. This reminds us of the crackdown on Beirut Pride last May 2018."
Beirut Pride and its associates are currently finalizing a law that addresses Article 534 and that will go to Parliament before May 2019. Damien feels the importance of not being silenced by the authorities and challenging them in order to make the situation evolve, as he explained to Fanack: "All forms of expressions are currently under attack around the globe. These incidents are a continuous tentative to rollback LGBT matters and societal advances. From politically-homophobic presidents, to hateful laws, to aggression, torture and killings in Chechnya and Europe, we must always realize that rights are always fragile and their continuity depends on our continuous effort to safeguard them. We must not take them for granted and we must be active and vocal in denouncing them and in challenging homophobic expressions all over the globe. This is our global duty."
On HRW's side, the complaint is meant as a way to internationalize the issue, with hope that some international pressure can have a positive impact on Lebanon's way of dealing with LGBT+ events and questions. Despite the current climate, Damien also wants to remain positive: "Education is paramount. Otherwise, the youth is fantastic. It is very good, and things are moving forward quite well. This doesn't mean there are not annoying events from time to time. However, evolution is ongoing and the future is bright. Of that we are confident!"

Further Reading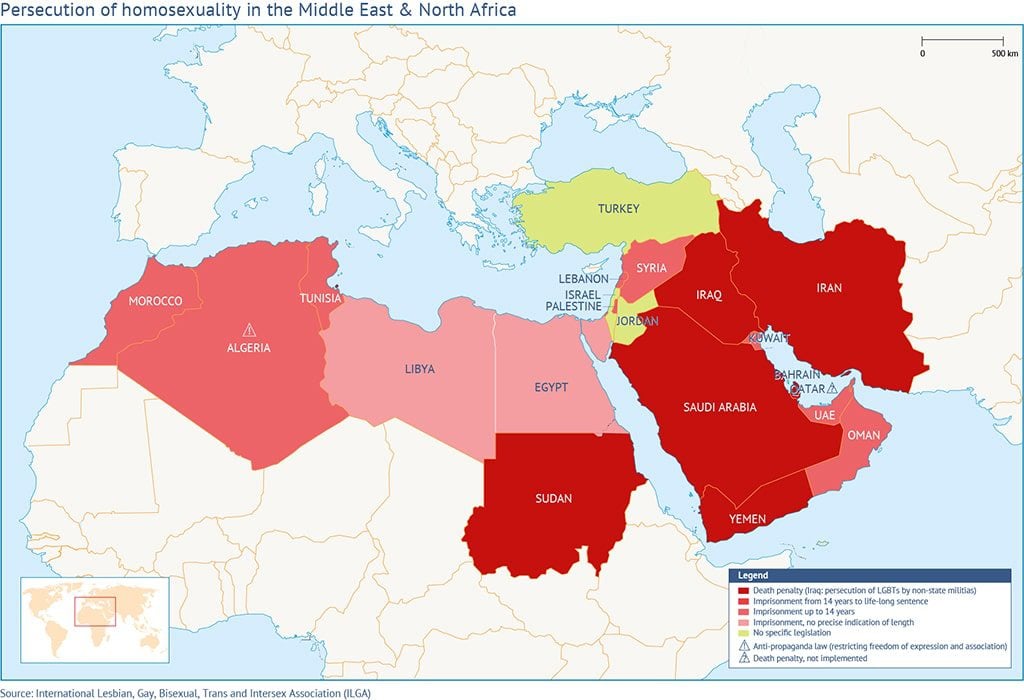 Are the Arab world and homosexuality incompatible? One might think so, given the news about anti-gay sentiment, raids on...
© Copyright Notice
Please contact us in case of omissions concerning copyright-protected work. The acquired copyright protected images used on/as featured image of this page are: ANWAR AMRO ©AFP | ANWAR AMRO ©AFP
"The heritage of knowledge is more valuable than gold."
Yahya ibn Abi Kathir (769-848)
We are a Dutch not for profit organisation (NGO), financed solely by individuals who share our belief in the importance of publishing and disseminating reliable, unbiased information on the Middle East & North Africa region. To represent the voice of the region's people, we carefully echo the region's heartbeat by offering fact-checked and therefore credible information.
Your support is greatly appreciated and helpful!