Foreign oil and gas company activity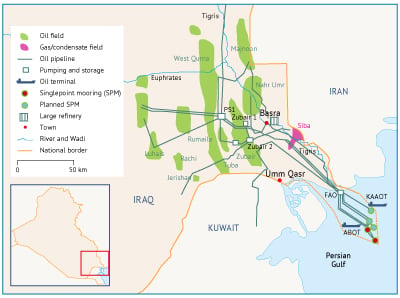 There is no definitive answer to the question of what role the nation's oil wealth played in the US-led invasion of Iraq in March 2003 and the subsequent overthrow of Saddam Hussein's Baathist regime, but it was to be expected that increased amounts of Iraq's oil would be developed by foreign oil companies when Iraq's oilfields were no longer under the control of that regime. It must thus have been at least a motivating factor, given the global economic interest in increased oil and gas production and the frustration with Saddam's regime.
With the preliminary outlines of a new government having been established in 2005, the planned pull-out of American forces and decreased security risk from insurgency, field development contracts were put up for auction. Under the first phase, companies bid to develop giant oilfields that were already producing. Phase-two contracts were signed to develop oilfields that had been explored but not fully developed or producing commercially. Contracts for the two phases cover oilfields with proven reserves of more than 60bbbl. If these fields were to be developed as initially planned, they would increase total Iraqi production capacity to almost 12mbpd, or about 9mbpd above 2012 production levels, but contract implementation has clear challenges. Iraq has since held a third bidding round for natural-gas fields, and a fourth for fields that contain predominantly crude oil. Nineteen technical-service contracts have been awarded by the federal government to date, each to a consortium led by an international operating company. Iraq's state-owned operating companies have a 25% stake in each of these consortia.
Production in 2010 averaged about 2.36mbpd. It has since increased due to these contracts. In fact, four projects (Ahdab, Rumaila, West Qurna Phase I and Zubair) have already reached the initial threshold production, collectively producing 2.05mbpd, the lion's share of Iraq's daily production. Ahdab was awarded separately to PetroChina in 2008, with initial target production set at 25 thousand barrels per day (kbpd), June 2012 production achieving 129kbpd, with the plateau target set at 140kbpd.
In most cases, the bidding process and hard bargaining have been followed by contract implementation, but some companies have explicitly or implicitly reviewed their positions in the south. Statoil has sold its stake in West Qurna Phase II. ExxonMobil, operator of West Qurna Phase I, has sought to pursue exploration opportunities in the KRG area, as have Total (part of the consortium for the Halfaya field, with PetroChina) and Gazprom Neft. ExxonMobil's decision to invest came just weeks before an end-of-December deadline for the US to withdraw its troops from Iraq. The federal government has made it clear that no company with activities in the KRG area is allowed to bid in the national licensing rounds for projects in the rest of Iraq, but the implications for companies with existing contracts are unclear. Nevertheless, later rounds have demonstrated strong interest in production-sharing agreements in the KRG.
The KRG effectively challenged the authority of the national government when it signed oil-production-sharing agreements with ExxonMobil to develop six blocks in northern Iraq, some of which are in disputed border areas. ExxonMobil's move is especially momentous given it was the company that led the first US consortium to re-enter Iraq's oil industry in 2009, after more than 30 years, by agreeing to develop the giant West Qurna I field. Other super-majors, such as BP and Royal Dutch Shell, have hesitated to sign contracts for fear of antagonizing Baghdad, which has said it believes the contracts to be illegitimate.
Indeed, ExxonMobil's (announced) intention to pull out of the massive West Qurna I project underscores the tensions in dealing with Baghdad and the displeasure of some prominent super-majors with contract terms compared with those offered by the KRG. The KRG has awarded about 50 contracts for hydrocarbon exploration and development, mostly to medium-sized international companies. Since 2010, some large international oil companies have also begun to The KRG has awarded about 50 contracts for hydrocarbon exploration and development, mostly to medium-sized international companies. Since 2010, some large international oil companies have also begun to acquire licenses from the KRG, including Murphy Oil and Marathon in 2010, followed by Hess, Repsol and ExxonMobil in 2011, and stakes in existing licenses acquired in 2012 by Chevron, Total and Gazprom Neft. Most recently, Genel has entered serious talks with the KRG.
Even before the latest security problems (section 4), Iraq faced steep challenges in meeting its ambitious production targets. This was due to the infrastructure required to realize the massive increases in production. Baghdad has subsequently reduced its 2020 production target to 8.5-9.0mbpd. The central government initially expected production to reach 12mbpd from its giant fields alone, slated to be developed in the first two licensing rounds. These estimates, however, were lowered in June 2014, following revisions to contract terms. A final agreement has been reached with Eni to lower the production target for the Zubair field to 0.85mbpd by 2020 from the 1.1mbpd target for 2017. Lukoil has reduced its terms for West Qurna II to 1.2mbpd from 1.8mbpd. BP and CNPC have agreed, in principle, to cut the production target for the giant Rumaila field to 2.1mbpd from the original 2.8mbpd by 2020. Revision negotiations for West Qurna I and Majnoon are currently underway. The contracts for the smaller fields are not expected to change, except for those facing security challenges. The Angolan state oil company Sonangol has exited its contracts for the Najma and Qayara fields in Nineveh, which borders Anbar province, citing security risks.