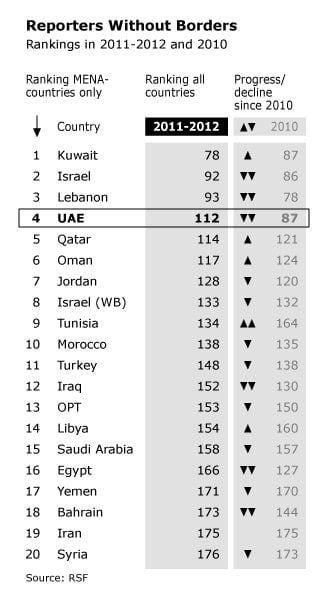 IREX gives the UAE a 2.30 rating on the Media Sustainability Index (out of a best possible score of 4.0). In the past, it stated that the country's 'media landscape…abounds with contradictions that stem from the country's unusual politics and economy. Media outlets have only recently been privatized and still have close connections with the government, yet they are thriving businesses that rely on a robust advertising market. Restrictive media laws and informally accepted "red lines" circumscribe local news coverage within accepted limits.' Freedom House has given the UAE the rating 'Not free'. Reporters Without Borders (RWB) rates the country at a low 45.00 (on a scale of 0-120, where 0 is the best possible score), ranking 112 out of 179.
According to them, 'The Internet and the new media relayed information about a wide range of sensitive topics in 2010 such as corruption and criticism of the government, causing online repression and censorship to intensify. The attempts to access BlackBerrys datas contrast starkly with the image of modernity that the United Arab Emirates is trying to cultivate.'
Reporters Without Borders criticized the move made since 2008 towards the adoption of a new press law, which could constitute a serious setback to press freedom in the country and which has faced strong objections from the media. On 20 January 2009, the Federal National Council adopted the draft law to replace the 1980 law. Although the draft law abolishes prison sentences for journalists and gives them the right to protect their sources of information, it also entails numerous restrictions on press freedom.
For example, the government would be able to decide who is able to work as a journalist – as an editor, reporter, or correspondent. It would also have extensive control over authorization of media working in the country, with the power to suspend licenses for media outlets, for even minor violations of the law. In January 2010, authorities dismissed a government employee and advisor to the Ras al-Khaima Crown Prince after the employee criticized, in a television interview, the lack of press freedom in the country. The employee's passport was confiscated.
Since 2008, the United Arab Emirates has been on Reporters Without Borders' list of 'countries under surveillance' in relation to free expression on the Internet, despite its adoption in 2006 of an electronic-press code. The Telecommunications Regulatory Authority (TRA) has begun excessive filtering in an attempt to control the content of online publications, blocking web sites without giving a reason.