February 17th, 2012 /
June 23rd, 2020
Elections in the Kurdish Region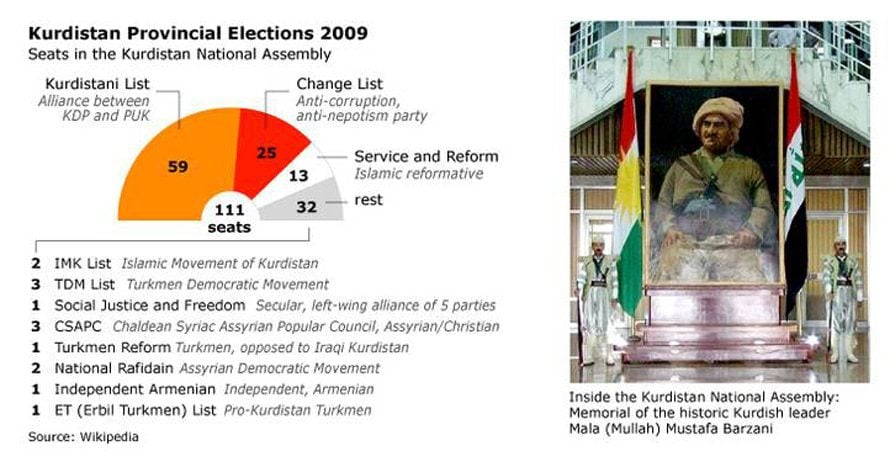 On 25 July 2009, elections for the Kurdistan National Assembly and the Presidency were held in the Kurdish Region (a referendum on the new Constitution was postponed). The 111 seats in the Kurdistan National Assembly were contested by approximately 25 parties and lists, only eleven of which won seats. The big winner was the Kurdistani List, the combined list of the Kurdistan Democratic Party (KDP, led by Massoud Barzani since the defeat in 1975) and the Patriotic Union of Kurdistan (PUK, led by Jalal Talabani since its foundation in 1976). It won 59 seats (57.3 percent of the votes). Compared to the January 2005 general elections in the Kurdistan region, however, the parties combined lost nineteen seats. Most of these seats went to a new party, the Change List (Listi Gorran, or Gorran). Gorran was founded earlier in the year by disenchanted high-ranking officials of the PUK, among whom was Gorran leader Nawshirwan Mustafa, the PUK's former deputy secretary-general. Their criticism focused on the monopoly of power by the KDP and the PUK, rampant corruption, and failing policies in many areas. Gorran won 25 seats (23.8 percent). Other seats went to The Service and Reform List (a coalition of Islamists and Socialists; 13), the Islamic Movement of Kurdistan (IMK, 2), the Turkmen Democratic Movement (TDM, 3) and the left-wing Social and Freedom List (1). The rest went to small Assyrian and Turkmen parties. The turnout was 78.5 percent.
The leader of the Kurdistani List, Barham Salih of the PUK, replaced KDP's Nechirvan Barzani as Prime Minister of a coalition government. KDP leader Massoud Barzani was re-elected President of the Kurdistan Regional Government, with around 70 percent of the vote (Kosrat Rasul Ali of the PUK until then acted as Vice-President).
Further Reading
An overview of Iraq's rich history, from the ancient Babylonian and Assyrian civilizations, to the 1958 coup and foundat...
© Copyright Notice
Please contact us in case of omissions concerning copyright-protected work. The acquired copyright protected images used on/as featured image of this page are: ©Fanack | ©Fanack
"The heritage of knowledge is more valuable than gold."
Yahya ibn Abi Kathir (769-848)
We are a Dutch not for profit organisation (NGO), financed solely by individuals who share our belief in the importance of publishing and disseminating reliable, unbiased information on the Middle East & North Africa region. To represent the voice of the region's people, we carefully echo the region's heartbeat by offering fact-checked and therefore credible information.
Your support is greatly appreciated and helpful!