October 28th, 2013 /
March 24th, 2020
The current nineteenth Knesset, elected on 22 January 2013, is made up of twelve political parties.
A number of new political parties were founded ahead of the 2013 elections. Yesh Atid (There is a Future) was founded by former anchor man Yair Lapid. The party aims to fight corruption, improve the middle class' economic position and mandate that all Israelis perform national service. Former Kadima leader and former Foreign Minister Tzipi Livni established HaTnua (The Movement) as a diplomatic alternative to Netanyahu's Likud. The ultra-nationalist HaBayit HaYehudi (The Jewish Home), led by Naftali Bennett, gave Likud a run for its votes.
In order of number of seats the nineteenth Knesset is composed of: Likud (Consolidation)/Yisrael Beiteinu (Israel Our Home) (right-wing/extreme-right wing, Zionist, 31 seats out of a total of 120 Knesset seats, 20 of which went to Likud; the remaining 11 went to Yisrael Beiteinu); Yesh Atid (centrist, Zionist, 19 seats); Israeli Labour Party (or HaAvoda, centrist, Zionist 15 seats); HaBayit HaYehudi (extreme-right wing, Zionist, 12 seats); Shas (Sfarad's Guards [of the Torah], Sephardic ultra-Orthodox, 11 seats); United Torah Judaism (Ashkenazi ultra-Orthodox, Zionist, 7 seats); HaTnua (right wing, Zionist, 6 seats); Meretz (Energy, centre-left, Zionist, 6 seats); Hadash (New, left wing, non-Zionist, 4 seats); United Arab List (or Ra'am-Ta'al)/Arab Movement for Renewal (Palestinian, non-Zionist, 4 seats); Balad (the Land; Palestinian, non-Zionist, 3 seats); and Kadima (Forward, right wing, Zionist, 2 seats). A range of other parties did not succeed in passing the threshold. Voter turnout was 67.8 percent (64.7 percent in 2009); among Israeli Palestinians it was 56 percent (53.4 percent in 2009), according to the Central Elections Committee (election results).
On 14 March 2013 a coalition government was formed, made up of Likud/Yisrael Beiteinu, Yesh Atid, HaBayit HaYehudi and HaTnua, which between them held 68 seats out of a total of 120 Knesset seats. Four days later it won a vote of confidence in the Knesset and was sworn in later that day. Benjamin Netanyahu, the leader of Likud, remained Prime Minister. Avigdor Lieberman (Yisrael Beiteinu) resigned as Minister of Foreign Affairs due to corruption charges in December 2012. Yair Lapid (Yesh Atid) became Minister of Finance, while Naftali Bennett (HaBayit HaYehudi) was appointed as Minister of Industry, Trade and Labour, as well as Minister of Religious Services. Tzipi Livni of HaTnua (The Movement) became Israel's chief negotiator with the Palestinian National Authority.
Likud
Likud (Consolidation) was founded in 1973 by Menachem Begin as an alliance of a number of small right wing and liberal parties. Likud's first success was its victory in the general elections of 1977, as a result of which Begin became the first non-socialist Prime Minister of Israel. In 2005, after a long political struggle with opponents within the party, and after Labour had left the governing coalition, the then leader of Likud, Prime Minister Ariel Sharon, announced he would leave the party and would found a new centrist party under the name of Kadima.He was succeeded by Benjamin Netanyahu, who since 2009 holds the post of Prime Minister.
Yisrael Beiteinu
Yisrael Beiteinu (Israel Our Home) was founded in 1999 by Avigdor Lieberman, former director-general of Likud, who left this party as a result of misgivings about concessions Prime Minister Netanyahu made to the Palestinian National Authority in 1997 in the so-called Wye River Memorandum. Yisrael Beiteinu is a nationalist party on the extreme right that essentially serves the interests of immigrants from the former Soviet Union, of whom more than 800,000 entered Israel in the 1990-1997 period. In the 2009 and 2013 elections the party joined Netanyahu's coalition government.
Yesh Atid

Yesh Atid (There is a Future) was founded in 2012 by former anchor man Yair Lapid and functions as a political platform for the secular middle class. In the 2013 election, the party came out as the big winner. Yesh Atid advocates among others economic and educational reform, the drafting of all Israelis in the Armed Forces (i.e. including yeshiva students), instituting civil marriage, and a fight against corruption. In 2013 it joined Netanyahu's coalition government.
Israeli Labour Party

Israeli Labour Party (HaAvoda). From the foundation of the State of Israel until the 1970s the Israeli Labour Party (formerly called Mapai, or Land of Israel Workers' Party) was the major political force in the country. Mapai was founded in 1930. One of the founding fathers was David Ben-Gurion, the de facto leader of the Jewish community (or Yishuv) in Palestine before 1948 and the country's Prime Minister (with one two-year interruption) from 1948 until 1963. In 1968, Mapai merged with two smaller leftist parties in the Israeli Labour Party. Until its defeat in the 1977 general elections, all Israeli Prime Ministers were members of Mapai and later of Labour. Afterwards the party returned as junior partner in several coalition governments. The current party leader is Shelly Yachimovich.
HaBayit HaYehudi

HaBayit HaYehudi (The Jewish Home), which shortly before the 2013 general election merged with the like minded Tkuma (Resurrection) party, is an extreme-right wing, ultra-nationalist, religious Zionist party and can be regarded as the mouthpiece of the organized settler movement. In 2013 it joined Netanyahu's coalition government.
Shas

Shas (also known as The Worldwide Sephardic Association of Torah Guardians) is a conservative religious party that was formed in 1984 as an alliance of several small religious political parties. One of the founders was Rabbi Ovada Yosef, a former Chief Rabbi of Israel. Shas strongly advocates the strict application of the Halacha, the Jewish laws originating from the Torah, the Five Books of Moses. The party is led by Aryeh Deri.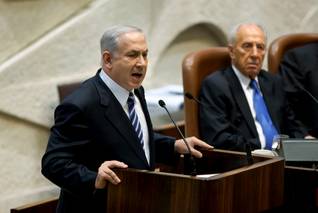 The electoral system in Israel is based on nation-wide proportional representation: the number of seats that each list receives in the Knesset is proportional to the number of votes. A party has to pass the qualifying threshold, which is currently 2 percent. Until the elections of 1992 the qualifying threshold was only 1 percent.
The election system was inherited from the rigid system of proportional representation of the Yishuv, the organized Jewish community in Palestine before and during the British Mandate.
The justification given for the large number of parties resulting from the system was that 'in a period in which major, far-reaching and rapid changes were still taking place in the population make-up as a result of immigration, it was important to enable maximal representation for various groups and opinions'. (See Electoral System in Israel, Israeli government website)
The electoral system is based primarily on two laws: the Basic Law on the Knesset of 1958 and the Knesset Elections Law of 1969. The Knesset elections are supposed to take place once every four years. The Knesset can decide, by simple majority, to dissolve itself and call for early elections. Since the Parties Law of 1992, a party has to be legally registered with the Party Registrar in order to participate in the elections. A list which acts against 'the existence of Israel as the state of the Jewish people' or against its democratic nature, a list which incites racism, or a list which 'supports the armed struggle of a terrorist organization against Israel' cannot run in the elections. Suffrage is universal among Israeli citizens of 18 years and older, but compulsory voting does not exist.
© Copyright Notice
Click on link to view the associated photo/image:
©AFP ⁃ THOMAS COEX | ©AFP ⁃ THOMAS COEX | ©Hollandse Hoogte | ©WIKIMEDIA COMMONS | ©WIKIMEDIA COMMONS | ©Shutterstock ⁃ mikhail
We would like to ask you something …
Fanack is an independent media organisation, not funded by any state or any interest group, that distributes in the Middle East and the wider world unbiased analysis and background information, based on facts, about the Middle East and North Africa.
The website grew rapidly in breadth and depth and today forms a rich and valuable source of information on 21 countries, from Morocco to Oman and from Iran to Yemen, both in Arabic and English. We currently reach six million readers annually and growing fast.
In order to guarantee the impartiality of information on the Chronicle, articles are published without by-lines. This also allows correspondents to write more freely about sensitive or controversial issues in their country. All articles are fact-checked before publication to ensure that content is accurate, current and unbiased.
To run such a website is very expensive. With a small donation, you can make a huge impact. And it only takes a minute. Thank you.