April 4th, 2012 /
October 15th, 2018
Jordan's society is centred on the patriarchal extended family, which includes not only the nuclear family (parents and siblings) but also more distant relatives by kinship and marriage and members of the same
tribe or clan
. Although this focus has become less prominent in recent years, especially in larger cities, for financial and social reasons, many Jordanians are still strongly family-oriented.
People rely on relatives, even distant ones, financially and socially, in what is known as wasta (mediation by people on behalf of others to whom they are connected by friendship or blood), for obtaining jobs or advancing other personal interests, and for social connections, protection, and emotional support. Most Jordanians still respect and follow traditional social customs in their daily lives, as in marriage, death, and the care of elderly parents. Men and women remain in their family homes until they marry, not only for financial reasons but also for traditional and religious reasons. Only students who study in universities far from their families' homes live on their own, usually in dormitories.
In the first decade of the century, family planning was stressed, and Jordanian families began to accept the idea. However, World Bank statistics show that the fertility rate (the average number of children born to a woman in her lifetime) remained stable at 3.8 from 2007 until 2010.
According to the 2009 Jordan Population and Family Health Survey (JPFHS), Jordan has succeeding in increasing the use of modern family-planning methods among married women aged 15-49 from 27 percent in 1990 to 42 percent in 2009.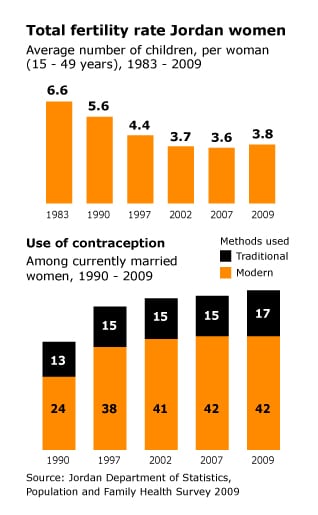 © Copyright Notice
Click on link to view the associated photo/image:
©Fanack
We would like to ask you something …
Fanack is an independent media organisation, not funded by any state or any interest group, that distributes in the Middle East and the wider world unbiased analysis and background information, based on facts, about the Middle East and North Africa.
The website grew rapidly in breadth and depth and today forms a rich and valuable source of information on 21 countries, from Morocco to Oman and from Iran to Yemen, both in Arabic and English. We currently reach six million readers annually and growing fast.
In order to guarantee the impartiality of information on the Chronicle, articles are published without by-lines. This also allows correspondents to write more freely about sensitive or controversial issues in their country. All articles are fact-checked before publication to ensure that content is accurate, current and unbiased.
To run such a website is very expensive. With a small donation, you can make a huge impact. And it only takes a minute. Thank you.