April 4th, 2012 /
July 9th, 2020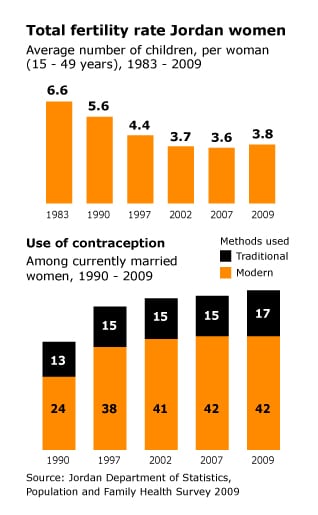 Jordan's society is centred on the patriarchal extended family, which includes not only the nuclear family (parents and siblings) but also more distant relatives by kinship and marriage and members of the same tribe or clan. Although this focus has become less prominent in recent years, especially in larger cities, for financial and social reasons, many Jordanians are still strongly family-oriented.
People rely on relatives, even distant ones, financially and socially, in what is known as wasta (mediation by people on behalf of others to whom they are connected by friendship or blood), for obtaining jobs or advancing other personal interests, and for social connections, protection, and emotional support. Most Jordanians still respect and follow traditional social customs in their daily lives, as in marriage, death, and the care of elderly parents. Men and women remain in their family homes until they marry, not only for financial reasons but also for traditional and religious reasons. Only students who study in universities far from their families' homes live on their own, usually in dormitories.
In the first decade of the century, family planning was stressed, and Jordanian families began to accept the idea. However, World Bank statistics show that the fertility rate (the average number of children born to a woman in her lifetime) remained stable at 3.8 from 2007 until 2010.
According to the 2009 Jordan Population and Family Health Survey (JPFHS), Jordan has succeeding in increasing the use of modern family-planning methods among married women aged 15-49 from 27 percent in 1990 to 42 percent in 2009.
© Copyright Notice
Please contact us in case of omissions concerning copyright-protected work. The acquired copyright protected images used on/as featured image of this page are: ©Fanack | ©Fanack
COVID-19 UPDATE
Get the latest update on the Coronavirus outbreak in the Middle East and North Africa.
"Ignorance leads to fear, fear leads to hatred, and hatred leads to violence.
This is the equation."
IBN RUSHD/AVERROES (1126 – 1198)
We are a Dutch not for profit organisation (NGO), financed solely by individuals who share our belief in the importance of publishing and disseminating reliable, unbiased information on the Middle East & North Africa region. To represent the voice of the region's people, we carefully echo the region's heartbeat by offering fact-checked and therefore credible information.
Your support is greatly appreciated and helpful!