May 31st, 2010 /
September 3rd, 2020
Position of Women in Lebanon
The Lebanese Constitution (Article 7) affirms gender equality: 'All Lebanese are equal before the law. They equally enjoy civil and political rights and equally are bound by public obligations and duties without any distinction.' Women go out, study, go to university, work, have their own businesses, are elected to Parliament, even become ministers. Superficially, they do much better than in other Arab countries. Still, even today some laws discriminate between men and women.
In 1996, Lebanon ratified the Convention on the Elimination of All Forms of Discrimination against Women (CEDAW), adopted in 1979 by the UN General Assembly. However, Lebanon submitted a clause on Article 16 of the Convention dealing with marriage and the family. This is because a female's personal status (for example marriage, divorce, property rights, inheritance, recognition and custody of children) is largely dictated by her religious affiliation. Lebanon recognizes eighteen different communities that each have their own religious laws. Some women's groups have called for reform to create a universal civil marriage that would bring all marriages under a common code. This proposal has been resisted by Parliament, which has blocked it from consideration. Some areas of women's personal status in Lebanon are however dictated by a common civil code. This code guarantees that women can own businesses and that their testimony will be given equal weight to men's in court.
Female representation in Parliament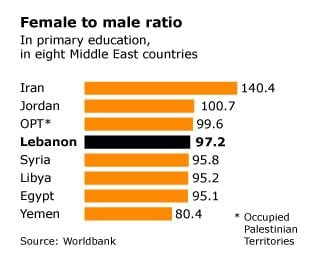 In 1952, women obtained the right to vote and to be elected. But in politics, they are still a tiny minority. In the previous Parliament, women occupied only 6 seats out of 128. In 2009, their number further decreased: now, there are only four women MPs, or 3.1 percent. Thus, Lebanon is at the bottom of the table of parliamentary representation of women in the Middle East (in neighbouring Syria it is 12.4 percent). The first time female ministers were appointed was in November 2004. The present cabinet has two female ministers, among whom the Minister of Finance, Raya al-Hassan.
Citizenship and international law
An important issue for Lebanese women is the citizenship and naturalization law of November 1, 1960. This law does not grant citizenship rights to children and spouses of Lebanese women married to non-nationals, in contrast to Lebanese men, who are granted these rights. It was one of the main goals of the UN Development Assistance Framework 2002-2006. Indeed, in March 2006, a draft law that should introduce equality concerning the right to citizenship was submitted to Parliament, but pressing security concerns prevented the MPs from studying this draft law.
Sexual integrity and 'crimes of honour'
Regarding the Penal Code, those who fight for equal rights consider many of its dispositions discriminatory towards women. Among these articles, one (503-522) relating to the violation of sexual integrity states: 'If a woman is raped and the perpetrator agrees to marry the victim, he will be pardoned.' The articles related to 'crimes of honour' were amended in 1999. Yet Article 562 still requires mitigation of the penalty for crimes committed in the name of honour.
Education and workforce
Urban women receive a good education in Lebanon. Adult female illiteracy has fallen from 37 percent in 1980 to 19.7 percent in 2000. Illiteracy among young females is a mere 8 percent. Half of all university students are women. But regional differences are important, and illiteracy is still high in North Lebanon and in the southern districts.
Lebanese women make up some 30 percent of the workforce. In 2006, working women were generally better educated than their male counterparts, as better education tends to be a prerequisite for women entering the labour force. Almost a quarter (24.6 percent) of employed women work in the professional sector. Women have found opportunities in government, medicine, the law, academia, the arts, and business. Most women (81 percent) are employed in the service sector, with 14 percent in industry and 4 percent in agriculture. Few women have achieved senior positions. 90 percent of bank employees are women, but there are no female bank directors.
Lebanon signed the International Labour Organization (ILO) Conventions on Equal Remuneration and on Discrimination in Employment and Occupation in the 1950s. Yet it was only in the years 2000-2002 that labour laws were adapted in order to prohibit gender discrimination by employers. Still, gender equality has not been fully achieved yet in labour laws.
"Ignorance leads to fear, fear leads to hatred, and hatred leads to violence.
This is the equation."
IBN RUSHD/AVERROES (1126 – 1198)
We are a Dutch not for profit organisation (NGO), financed solely by individuals who share our belief in the importance of publishing and disseminating reliable, unbiased information on the Middle East & North Africa region. To represent the voice of the region's people, we carefully echo the region's heartbeat by offering fact-checked and therefore credible information.
Your support is greatly appreciated and helpful!
COVID-19 UPDATE
Get the latest update on the Coronavirus outbreak in the Middle East and North Africa.