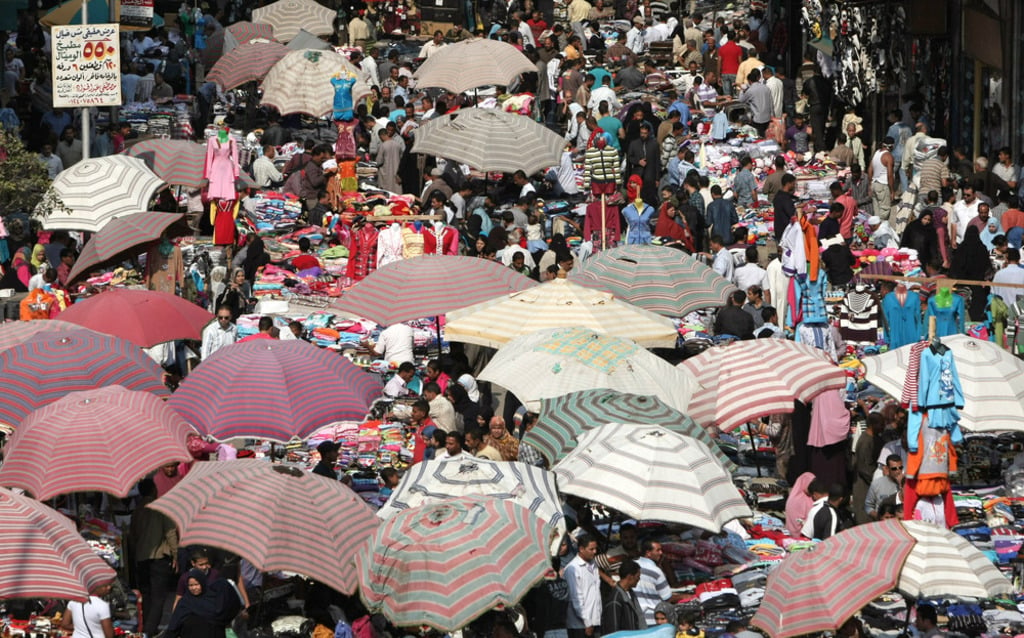 Egypt's population reached 94.8 million in April 2017, according to the latest census by the country's statistics agency CAPMAS. The census was presented in September 2017, and by the following month the live population count on the CAPMAS site had hit 95.82 million.
Since the 2011 revolution, Egypt's population has grown by a rate of over 2 per cent – or around 2 million people – per year. The population has doubled since 1986 and has grown by 22 million in the last decade alone, according to previous censuses.
Why is this a problem? Egypt is a vast territory, yet 95 per cent of its people live in the 5 per cent of land in the Nile Valley and Nile Delta. Cities such as Cairo and Alexandria have become heavily congested, with devastating effects for traffic, sanitation and air quality. The majority of the country's agricultural land is also located along the banks of the Nile. With every new apartment block that goes up, valuable agricultural land is lost.
Housewife Akaber lives in what was once a suburb of Cairo, near the Giza pyramids, but has seen her neighbourhood slowly swallowed by the city. "You could see the pyramids from our rooftop, and there were green fields all around here. Now we are surrounded by apartment blocks."
Driving on Cairo's ring road, row after row of these new and often half-finished apartment blocks stretch as far as the eye can see. In the countryside, too, typical red-brick buildings are slowing taking over the fields.
Considering that about a quarter of the population works in agriculture, and Egypt is already the world's largest importer of wheat, the country cannot afford to lose more of its fertile land. Add to this the fact that Egypt is almost completely dependent on the Nile for its water resources, and at 660m3 already has one of the lowest shares of water per capita in the world, and it becomes clear why population growth poses such a threat. If the current growth rate continues, the population will reach 128 million by 2030 and over 150 million in 2050.
This growth is driven by a high fertility rate (the average number of births per woman), which is 3.53 (2016 estimate). In the European Union, in contrast, this is 1.58. However, there is more at play.
"We need to keep in mind that Egypt has a young population due to high fertility rates over the last decades," Nahla Abdel-Tawab, Egypt country director at the Population Council, told Fanack. "Thus, every year there is a large number of women who enter reproductive age and half of them get married by their early 20s and have children shortly after marriage."
Girls marrying even younger than that accelerate the growth: 16% of girls marry under the legal age of 18, Minister of Social Solidarity Ghadi Wali has said, as a result of the so-called Orfi marriage. This is a common law rather than a legally recognized marriage contract but is widely regarded as valid by the public. When the couple reaches 18, they can then legalize the marriage.
"Early marriage constitutes a problem in rural areas, especially in Upper Egypt," Abdel-Tawab said. "Women who marry early have more children, not only because their reproductive span is longer but also because they usually belong to lower socio-economic strata and hence they and their spouses uphold more conservative norms with regards to fertility."
It is notable that under former President Hosni Mubarak, the population growth rate slowed. After Mubarak's overthrow and the subsequent political instability, it rose again.
"The revolution resulted in the temporary disruption of activities by the Health Ministry related to preventative care," Abdel-Tawab said. Moreover, Mubarak was succeeded by the Muslim Brotherhood, which opposed family planning and put many of the Health Ministry's programmes on hold, she added.
The current government is waking up to the danger of rapid population growth. In a parliamentary address in early October 2017, Prime Minister Sherif Ismail described "unprecedented population growth" as the country's "biggest challenge". He warned that the population surge could threaten economic growth, which has started to recover after years of stagnation. At a youth conference in July 2017, President Abdel Fattah al-Sisi said that population growth ranks second only to terrorism as the biggest danger for Egypt.
During an event in April 2017, Minister Wali called Egypt's population growth "an actual catastrophe", saying the lack of awareness of and access to birth control methods was the main driver. Tens of thousands of youth would be trained for door-knocking campaigns to raise awareness, and her ministry would allocate EGP 100 million ($5.7 million) for civil society organizations to increase awareness in schools and hospitals, she said.
Three months later, Wali launched the Two is enough' programme, partly funded by the United Nations Population Fund. It focuses on raising awareness through workshops and conferences and distributing birth control. Women with no more than two children will also benefit from the ministry's income support provision.
In addition, the Health Ministry announced a plan in August 2017 to educate women in rural areas on family planning and birth control. Some 12,000 family planning advocates will be deployed in rural governorates, Reuters reported. The ministry already runs 6,000 family planning clinics that offer heavily subsidized contraception.
However, the Economist wrote in an 2015 article that 99 per cent of women of reproductive age know how to prevent pregnancy – a number Abdel-Tawab confirmed – suggesting that Egyptians simply want bigger families.
"The more important question is how much these women know about each method. Women and even health-care providers have misconceptions about family planning methods and hence rates of method discontinuation are high."
However, the desire for large families is real. "Children – especially boys – provide a sense of pride and strength," Abdel-Tawab said. "Children are also a source of income … Poor families weigh the costs and benefits of having fewer children. and unfortunately they realize that having more children is more lucrative, at least in the short term."
Local cafés and street restaurants in Cairo employing underage boys, often from villages in Upper Egypt, is not uncommon. Earning money in Cairo is preferred over attending school. In several cases known to Fanack, the boys only returned to their villages during the exam period.
"A child who works in a workshop or on a farm can make up to EGP 100 [$6] per day," Abdel-Tawab explained. "On the other hand, if that child goes to school his parents will have to pay for supplies, transportation, the uniform and private lessons… Even if that child completes his or her university education, their chances of being unemployed are high and even those who are fortunate enough to get a job may not make EGP 100 per day."
So can anything be done to control population growth? According to Abdel-Tawab, the responsibility lies not only with the state; the judiciary, NGOs, media and private sector also need to be involved.
She sees a number of short-term steps that could help slow the growth, such as educating the public about "the merits of small families", better availability of contraceptives and training medical personnel on family planning.
In the long term, she believes that investment in girls' education, stronger enforcement of the legal minimum age of marriage and women's empowerment in the workforce are important.
However, in order to break both the cultural and financial desire for large families, lifting people out of poverty and improving the education system for both boys and girls are essential. As the population continues to rise, time is running out.