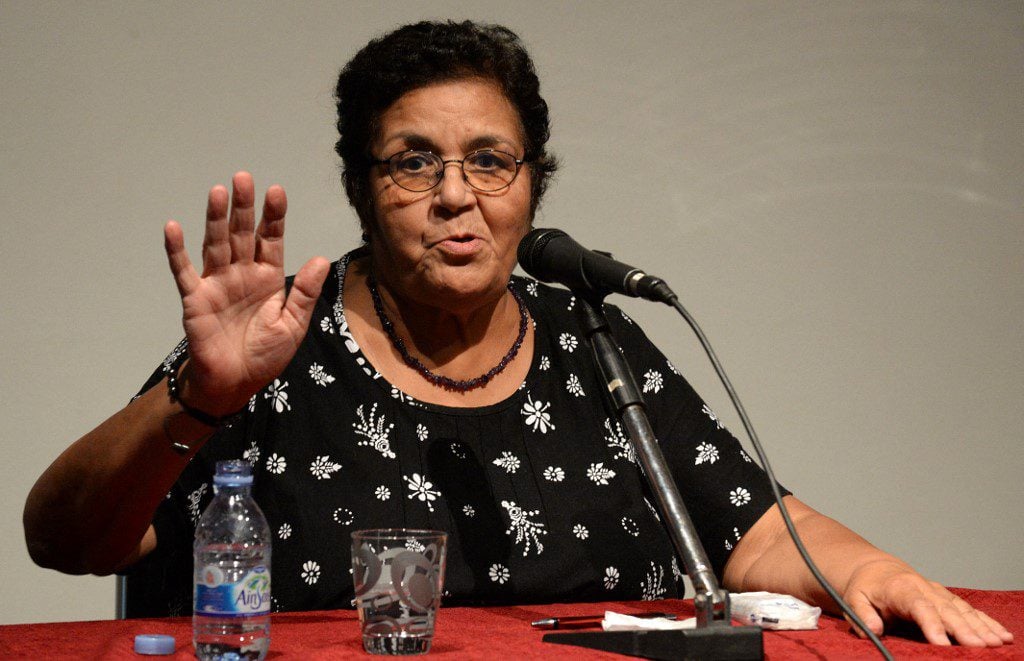 Youssef Sharqawi
Aïcha Chenna might look like any Moroccan mother with her round face, short hair and small eyes. However, "Mama Aïcha," as those who sought her help called her, was a mother to every Moroccan mother.
Through her arduous journey and struggle, which spanned more than 40 years of her life, she defended the rights of single mothers and their children. Her journey opened new horizons for hundreds of mothers and their children when the Moroccan society cast them away.
Chenna passed away last week on 25 September 2022, after dedicating her life to defending women and mothers' rights in Morocco, transforming her into a symbol of the struggle for Moroccan women's welfare.
Biography
She was born on 14 August 1941, in Casablanca, during the French Protectorate. Since her father died three years after her birth, she grew to appreciate the value of familial solidarity.
She fought her first battle for the right to education. In an interview, she said:
"Actually, I wasn't the one who fought this battle, but my mother. I became an orphan when I was three and a half years of age. When I reached the age of education, my mother sent me to the Moroccan school, even though my father's friends, the notables of Marrakesh, used to send their children to French schools. Since they treated me as one of their own, they sent me to French schools and took care of all my needs. I was my mother's only daughter after my younger sister passed away. My mother was not yet 20 when she was widowed, and she then married one of Marrakesh's notables."
After a while, Chenna's stepfather asked her mother to take her out of school. According to Chenna, his excuse was "the chaos roaming the country and the confrontation between occupational forces and patriots."
She added, "My mother did not accept and, without her husband's knowledge, smuggled me to the bus station and asked the driver to take care of me. I then went to Casablanca, settled with my uncle, and resumed studying."
At sixteen, she landed a job in a hospital as a secretary for leprosy and tuberculosis research programmes. She passed the entrance exam for the Nurses Training Centre in 1960. After receiving her nursing diploma, she worked in the Ministry of Health's Education Unit.
She then worked as a health awareness programme coordinator. In the 1970s, she started producing TV shows and radio broadcasts specialising in women's health, including the first TV show about health education.
Chenna opened her eyes to the tragic reality of abandoned children when she was sixteen. She herself suffered the wrath of a society that detests single mothers. Therefore, she joined the Countering Tuberculosis League and the Child Protection and Health Education League.
Subsequently, she started interacting with women in need of help, marginalised by a society entrenched in rigid traditions. About that experience, she said, "I learned to listen to my society, and my society learned to listen to me."
At the age of twenty-four, Chenna was the first social activist to propose addressing "family planning" in Morocco. Ever since that time, she worked on cases related to family planning
Association Solidarité Féminine
In an interview, Chenna stated that an incident concerning a Bedouin woman pushed her to establish the Association Solidarité Féminine with other women: "On one of 1981's rainy nights, I was returning to work from maternity leave. I went into the Social Assistance office to find a mother breastfeeding her infant, and she looked Bedouin. She told the assistant that her family had kicked her out because her son resulted from fornication and had told her, 'this kid is a bastard; sell him or throw him away. We don't want him.'"
Chenna sadly recalled that the mother did not want her son to be homeless and thus decided to give him up, hoping the state would take care of him. The assistant ordered her to sign her decision to give up her son. The mother then pulled the infant's mouth away from her breast so aggressively that milk drops covered his face, causing the baby to cry.
In the interview, Chenna said that the infant's cries still echo in her mind. She said, "I swore to fight this phenomenon and discuss it. I forgot the fear and the problems, put them aside, and trusted God." She added, "That night, I returned home and embraced my son, who was the same age as that infant, and swore to dedicate my life and work to serve this cause so that mothers will not have to give up their children."
Four years after this incident, Chenna established the Association Solidarité Féminine to help single mothers and rape victims. The association trains women in cooking, sewing and accounting, among other skills, and aims to reintegrate them and their children into society and grant them independence.
The association provides women with legal, economic, and psychological aid. It facilitates legal and administrative procedures related to registering children in the civil registry.
Moreover, the association seeks to raise women's awareness of the dangers of sexual intercourse outside marriage in conservative societies, such as the Moroccan. The association reintegrates women and their children into their families and has managed to get some fathers to acknowledge their children born out of wedlock, leading to numerous civil registrations.
Mama Aïcha tried to change the cultural traditions related to these children by using more understanding and accepting terminology. For instance, she used the terms "abandoned women" or "women in a difficult situation" instead of "single mothers." She treated these women as victims of society and the law.
Similarly, she favoured using the terms "abandoned children" or "children in a difficult situation" instead of "foundling," "bastards", or "street children." She emphasised the kind treatment of these children, particularly because they did not choose to come into the world but resulted from a one-night stand, an illegal relationship, rape or false promises of marriage.
Chenna summed up what the association provides, saying: "These mothers come to the association, looking down in shame, and come out with their heads held up high, carrying their children in their arms, already having learned a profession, and most importantly having learned to say proudly, 'I am a mother.'"
However, many considered Chenna's work a revolution against tradition, which exposed her to numerous threats, incitement, and attacks.
When political clashes between conservative and progressive currents revolved around integrating women into Moroccan development plans, Chenna worked to prevent the use of women as a card in the political games between different parties.
According to journalist Rashid Afeef, Chenna did so to guarantee women's rights and to maintain their on-the-ground achievements. She always refused the notion that marginalised and deprived women should wait until political parties reconciled before addressing these women and their rights. This pushed her to work silently and relentlessly to achieve her goals.
Misery and Sad Stories
During her life, Chenna published two books. In her book Miséria: témoignages, she narrated the emotional stories of 20 women she had previously worked with. Late Moroccan activist Fatema Mernissi said about the book, "I feared Aïcha when I was reading her book because when I write, I focus on enticing and impressing the readers, but she annoys and provokes them, and she pushes us into Morocco's unfortunate unbearable reality." The book was described as a "feminist proclamation" and "miscellany of sorrowful stories".
Awards and Honours
Chenna won several awards and honours in acknowledgement of her humanitarian contributions. She won the French Human Rights Prize in 1995 and received the Elisabeth Norgall Award from the International Women's Club of Frankfurt. She was the first Arab woman to win the Opus Prize for most outstanding humanitarian work.
The Moroccan King, Mohammed VI, bestowed the Medal of Honour on her in 2000. She also was awarded the class of Knight in the Legion of Honour by France in 2013.
Chenna left our world as an icon of humanitarian work in Morocco. Morocco lost one of the most prominent advocates of women's rights, especially the rights of victims, neglected by society and the law, who found a safe haven and protection in Chenna for 40 years.
Will Mama Aïcha's experience infect other Arab countries, and will new horizons open for other feminist solidarity associations in the Arab world?