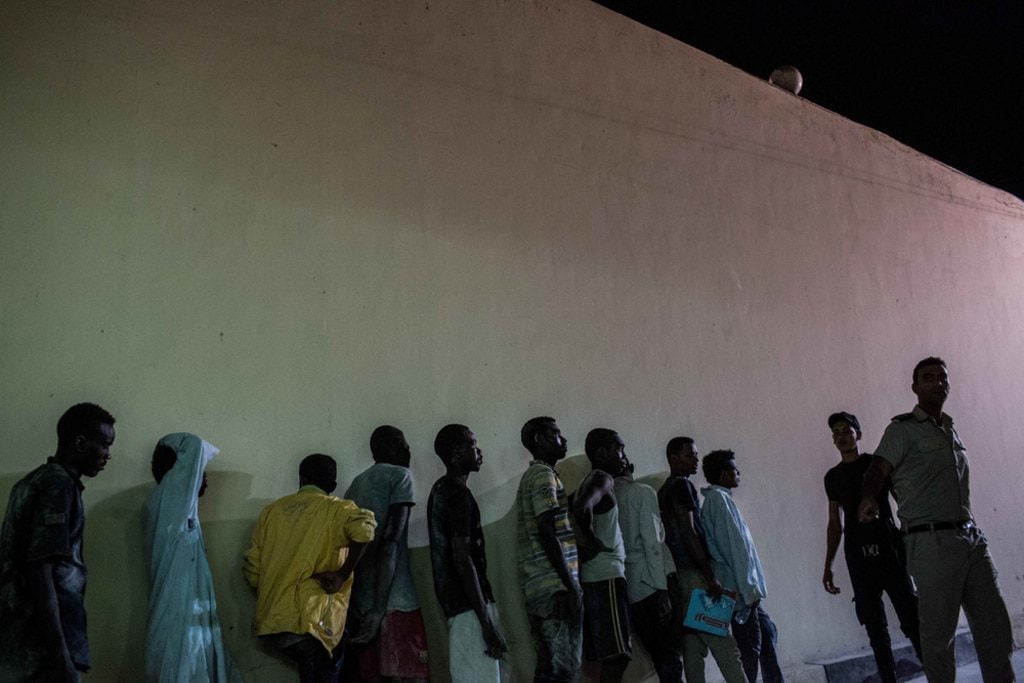 Following the migration deals with Turkey in 2016 and Libya in 2017, Egypt is next on the list of Mediterranean countries with which the European Union (EU) is looking to cooperate on curbing irregular migration.
The political game, with Egypt trying to maximize its gain from such a deal, is currently in full swing. Officials in Brussels told Reuters in February 2017 that the EU is offering Egypt easier visa procedures and financial assistance in exchange for 'deporting unwanted African migrants'.
Earlier in the month, Egypt rejected another EU offer to finance camps for irregular migrants in Egypt, suggesting that the EU should instead invest in job creation in the southern Mediterranean.
Several European countries, including Germany and Italy, already have bilateral agreements with Egypt to curb irregular migration, for instance in the form of providing training. The UK followed suit in February 2017, offering 33 million Egyptian pounds (around €178,000) 'to combat illegal migration and human trafficking and to create opportunities for people who are vulnerable to becoming victims of these crimes'.
In October 2016, the Egyptian parliament passed a new bill to combat irregular migration, posing tougher penalties on human traffickers and forming a committee for training purposes.
Compared to Libya and Turkey, the number of refugees in Egypt is small. According to the latest figures from the UN Refugee Agency (UNHCR), there are over 190,000 asylum seekers and refugees registered in Cairo, of which 115,000 are Syrians and 57,000 are from East Africa (mainly South Sudan, Eritrea, Ethiopia and Somalia).
The actual number of refugees in Egypt may well be higher than the official numbers, as not all refugees are registered. However, the 5 million 'refugees and immigrants' Egypt hosts, according to its foreign ministry, seems hugely exaggerated and primarily motivated to pressure the EU into negotiating a deal. For instance, this number includes a large number of Sudanese immigrants who have been in Egypt for generations and are not asylum seekers.
An aid worker in Cairo, who spoke to Fanack on condition of anonymity, said that migrants looking to reach Europe by boat mostly come from Africa. Syrian refugees that wanted to leave Egypt have mostly done so, and those remaining do not intend to migrate elsewhere. In addition, economic factors are driving up the number of irregular sea arrivals of Egyptian migrants.
The willingness to pursue irregular migration is high, especially among newly arrived refugees from African countries, the aid worker said, as a result of the deplorable conditions refugees face in Egypt and the long process towards legal resettlement through UNHCR.
"African refugees cannot enter the education system, and legal employment is impossible," she said. Moreover, there are "huge safety concerns", as Africans face "daily harassment, racism and gender-based violence" from the local community.
Frustration with the resettlement procedure stems from the "massively delayed" process to determine a migrant's refugee status, the aid worker said. Newcomers will have to wait until 2018 or early 2019 for their first interview with UNHCR. And if they are recognized as a refugee, it will take another year and a half at least to be resettled.
With Donald Trump in the White House, the inclination to find alternative migration routes has grown. The United States accounts for the lion's share of worldwide resettlements, but this year it cut its total number of annual resettlement places by half, to around 50,000. As a result, resettlements in the pipeline have been delayed, and most of the resettlement places for 2017 and 2018 have already been filled, diminishing the little hope refugees had to leave Egypt through legal channels.
According to the aid worker, the growing uncertainty has led many African refugees in Cairo to plan for migration by boat once the season starts in April 2017.
The EU's efforts to reach an agreement with Egypt suggest an anticipated rise in migration attempts, especially as the deal with Libya has made migration via that country harder. Such an agreement could limit the number of boat departures and will likely increase the number of arrests of migrants and smugglers along Egypt's coast. But it will not deter African refugees from attempting to reach Europe, the aid worker said.
"People do not have a utopian image of Europe, they migrate because the situation in their home countries, or in Egypt, does not offer the means for a safe and dignified life," she explained. "Whomever you speak to would say: 'it doesn't matter if I die here or at sea, but rather at sea because then at least there was hope for something better'."
She refutes the idea that migrants are fortune hunters, intent only on economic betterment. "Eritrea is not a poor country, but it has a dictatorship that forces youth into military schools, arrests and tortures dissidents, and persecutes certain religious and cultural practices."
Ethiopian refugees mostly stem for the ethnic Oromo minority, oppressed amid an ongoing conflict between the state and the outlawed Oromo Liberation Front (OLF). "Any affiliation through family relations with a member of the OLF can lead to arrest," the aid worker said. The continuing civil war in South Sudan and the presence of Islamic State affiliate al-Shabab in Somalia are the main drivers of migration from those countries.
For the aid worker, money provided to empower Egypt's border security would be better spent on opening resettlement channels and improving the integration of refugees in European societies. "When there is hope, there is no need for irregular migration."
Yet rather than creating safe ways for refugees to reach Europe, the EU's aim appears to be reducing the migration flow in general. And while focusing on cooperation with Libya and Egypt, it has seemingly ignored the root causes of migration, in this case war and oppression in the Horn of Africa.
Since 2014, the EU has worked with countries in the Horn of Africa, often sources of refugees themselves, in combatting human traffickers and smugglers, under what is known as the Khartoum Process. The Dutch political research institute Clingendael described the Khartoum Process in a recent publication as 'a framework with a narrow security-based focus that is unlikely to prevent unsafe migration by boat to Europe. It also argued that the 'complicity' of Sudanese and Eritrean officials in the smuggling activities is 'overlooked'.
A delegation of the European parliamentary group European United Left/Nordic Green Left observed during a visit to Sudan in early 2017 that the northern border is controlled by the country's 'Rapid Support Forces', a security unit formed out of the militia that were responsible for mass murders in Darfur.