Politician Mohamed Beji Caid Essebsi believes that he is the only one to safeguard victories of Tunisia's 2011 Jasmine Revolution.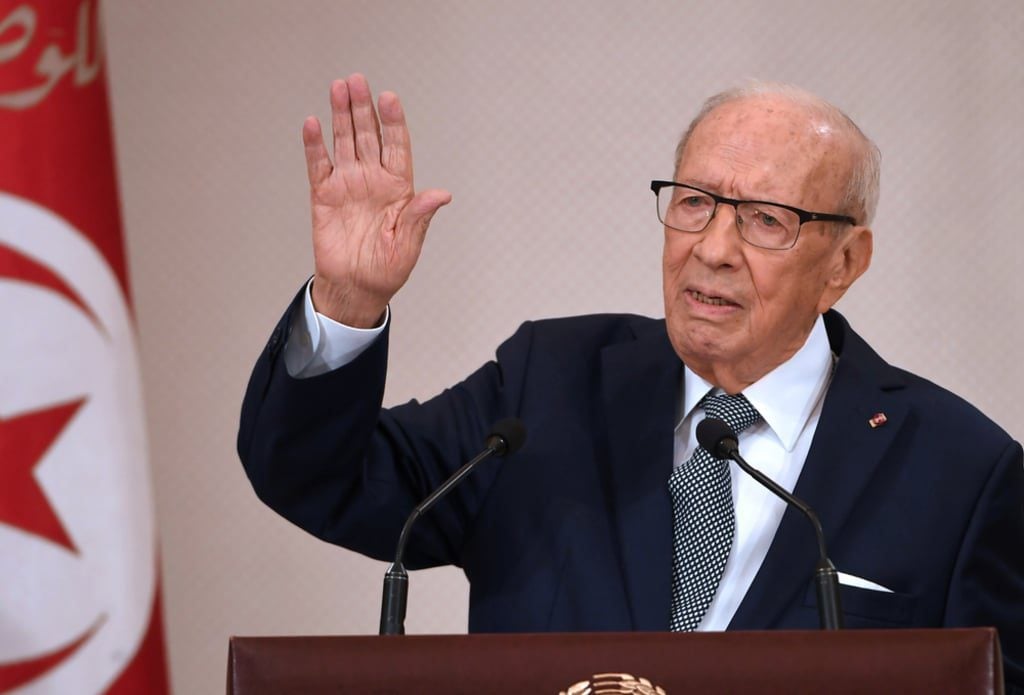 Mohamed Beji Caid Essebsi has the dubious honour of being both Tunisia's first democratically elected president and a political dinosaur. Born in 1926, he graduated with a degree in law and became a staunch supporter of Habib Bourguiba, Tunisia's independence leader and first dictator.
After the country achieved independence from France in 1956, Essebsi served in various ministerial positions under Bourguiba, including security and defence posts. When Bourguiba was overthrown in 1987, Essebsi pragmatically allied with the country's new autocratic ruler Zine el-Abidine Ben Ali, serving as his speaker in the chamber of deputies in 1990 and 1991.
It is a period that Essebsi and his supporters would rather forget. Almost three decades later, Essebsi believes that he is the only politician experienced enough to safeguard the victories of the 2011 Jasmine Revolution that forced Ben Ali to step down, though critics disagree.
Since founding the Nidaa Tounes Party in 2012 – a party that united leftists, old regime elites and die-hard secularists – Essebsi has scored major political victories. A key driver of his success was the assassination of nationalist politician Mohamed Brahmi on 25 July 2013.
Brahmi was the second politician to be murdered in the space of five months, triggering massive anti-government protests. Demonstrators accused the ruling Islamist party Ennahda of failing to crack down on religious extremists who were responsible for the crimes. With divisions rife, and the country on the verge of degenerating into chaos, protestors called for Ennahda to step down, which it did after participating in a national dialogue that was mediated by a quartet of civil society organizations.
Essebsi was well positioned to rise to power following Ennahda's exit. In 2014, he was elected president at the age of 88, after his party won a majority in parliament. Yet judging by his campaign, which was fervently anti-Islamist, there were concerns that he would be a divisive rather than a unifying figure.
A December 2014 column he wrote for the Washington Post appeared to confirm this. Playing into Western prejudices, Essebsi framed his electoral victory as a triumph over Ennahda's backward ideas. He even insinuated that Tunisia's large and secular middle class had chosen the path of 'modernity' by electing him.
Essebsi ended his column by stating that his presidency would focus on fixing Tunisia's economic woes, improving security and strengthening the country's young and fragile democracy. Four years later, the political veteran has failed to deliver on all fronts.
On his watch, the country has witnessed two terrorist attacks. In Marche 2015, two jihadists attacked the Bardo National Museum in the capital Tunis, killing 22 people. Three months later, a mass shooting at a tourist resort in the coastal town of Sousse left 37 people dead. In both cases, the attackers were believed to have been trained in a jihadist training camp in neighbouring Libya.
The attacks severely damaged the economy and compelled Essebsi to propose a new terrorist law, which was approved by parliament the same year. The law granted security forces the power to detain people for up to 15 days, while allowing witnesses of alleged terrorist offences to remain anonymous. Human rights groups criticized the law, arguing that it did not safeguard the basic rights of the accused.
As it turned out, the law did little to improve security. In March 2016, dozens of militants claiming to be from the Islamic State group tried to 'liberate' the border town of Ben Guerdane from the Tunisian army. The army fended off the attack, killing 43 militants. The incident nonetheless revealed that homegrown jihadists were as much of a threat to Tunisia's democracy as jihadists from Libya or elsewhere.
In the same year, the Nidaa Tounes party split apart due to unresolved differences among prominent members. Many thought that party should refrain from cooperating with Ennahda whereas Essebsi and his supporters believed that it was necessary to do so.
A rift also appeared between Mohsen Marzouk, who played a major role in Nidaa Tounes' electoral victory, and the president's son, Hafedh Caid Essebsi. In January 2016, Marzouk and his followers resigned after accusing the president of trying to elevate Hafedh's status in the party. Hafedh has since assumed the leadership of Nidaa Tounes.
However, his father is still the president and, in 2017, Essebsi made a series of bold moves. First, he adopted legislation that allowed Muslim women to marry non-Muslim men, which rights groups championed as a victory for women. He also criminalized violence against women, earning him further praise.
His next move was less popular. He passed a law granting amnesty to Ben Ali-era officials and business tycoons who were facing trial for administrative corruption. Monika Marks, a Tunisia analyst, said that the law was a "huge symbolic victory for impunity". Essebsi nevertheless defended the law, arguing that it was necessary to boost the economy.
While Tunisia's fragile democracy seemed to be gradually eroding, impoverished Tunisians were more concerned with the flagging economy. Grievances boiled over after the government announced new austerity measures on 1 January 2018. With the price of basic goods expected to rise, demonstrations broke out across the country.
The government had little choice but to impose austerity cuts after accepting a $2.8 billion loan from the International Monetary Fund in 2016. The government's response to the demonstrations was nonetheless excessive. Two weeks after the protests broke out, security forces arrested more than 800 demonstrators.
Like Ennahda in 2013, Nidaa Tounes is failing to resolve the ongoing political crisis. Essebsi is in a tight spot, as his son Hafedh and Prime Minister Youssef Chahed are clearly at odds. The former is spearheading an anti-corruption campaign, which the latter believes is targeting businessmen who only have ties to Nidaa Tounes.
Despite his failings, Essebsi deserves credit for holding the country together after multiple terrorist attacks. Contrary to his own beliefs, however, mounting corruption, nepotism and a culture of impunity may be larger threats to Tunisia's democracy than the one posed by jihadists. To address these issues, Essebsi will have to hold himself, his son and his political allies accountable.