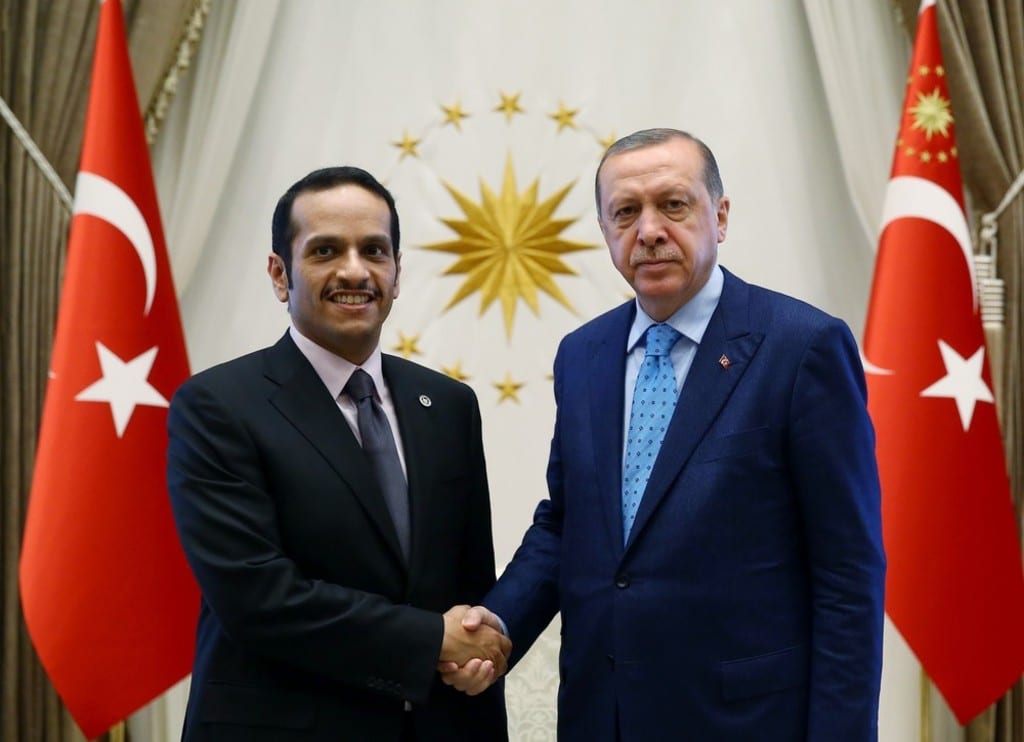 When news broke on 5 June 2017 that Saudi Arabia, the United Arab Emirates, Egypt and Bahrain had imposed a blockade on Qatar for its alleged support of terrorism, Turkey was quick to step forward as a potential mediator. Within days, however, it had gone from a potential mediator to a firm supporter of Qatar.
As Qatar's neighbours cut their land, sea and air links, Turkey rushed through legislation to send troops to the emirate and flew in more than 100 planeloads of urgently needed food.
Turkish tanks were soon seen rolling through the Qatari capital Doha (and have been credited by some with stopping a military escalation). The number of Turkish troops in the emirate could eventually reach 1,000, with an air force contingent also envisaged.
On 25 June 2017, two days after the Saudi-led quartet issued a 13-demand ultimatum to Qatar as the price for lifting the blockade, Turkish President Recep Tayyip Erdoğan described the demands, which include shutting down the state-funded broadcaster al-Jazeera, severing ties with the Muslim Brotherhood and closing a Turkish military base, as "disrespectful" and contrary to international law.
Speaking to French journalists, Erdoğan said he would not close the base unless requested to do so by Qatar, reaffirming his commitment to the beleaguered emirate. He also questioned why the demand did not include the French and American bases in the country.
Despite his refusal to comply, Erdoğan has been keen to stay on good terms with both sides of the dispute. Turkey is expected to sign a deal to sell corvette warships to Saudi Arabia in the near future. If the deal goes ahead, it will be Turkey's largest export deal to date and a major boon as it seeks to grow its international arms sales.
Turkey also sees Qatar as a sustainable market for its defence firms. However, its interests in the emirate run far deeper. Turkey's main construction companies, which drive economic growth, are seeking lucrative contracts from the gas-rich state, and Turkey is eager to attract greater Qatari investment to fund domestic projects and business. With Qatari gratitude holding such potential reward, Erdoğan's support is perhaps unsurprising.
At the political level, Ankara and Doha have similar views on a range of regional issues, an alignment that Turkey values. In Syria, Egypt, Libya, Gaza and Iraq's Kurdish region, both countries favour the same Sunni Islamists. With a shared desire to see Syrian President Bashar al-Assad toppled, Turkey and Qatar have been key supporters of opposition rebel groups, including hardline Islamist militants, which has attracted regional and international criticism.
Similarly, Qatar's softer stance towards Iran has been a major factor in the diplomatic crisis. Saudi Arabia, which sees Iran as its main rival for regional dominance, has long been troubled by Qatar's ambitions to carve a foreign policy that is independent of its neighbours, a policy that explicitly serves its own interests. Like Qatar, Turkey has also taken advantage of a softer approach to Tehran for national, particularly economic, gain and has refused to align itself with Saudi Arabia's black and white politics.
In remarks on 13 June 2017, Erdoğan called the blockade on Qatar "inhumane and against Islamic values", in an attempt to appeal to the shared religious identity of all parties. This religious rhetoric is in line with Turkey's desire to be seen as the arbiter of Islamic leadership in the region as well as its quest for greater regional and international clout.
Indeed, under Erdoğan's Justice and Development Party (AKP), Turkey's policy of engagement with Sunni Islamists across the Middle East and North Africa is indicative of its interest in wider Sunni cohesion rather than an alliance with Qatar alone.
In this respect, the Arab Spring seemed to be playing into Turkey's hands, as Islamists came to power in Tunisia and Egypt. Six years later, however, with the Muslim Brotherhood ousted in Egypt and Tunisia's Ennahda party distancing itself from political Islam, little remains of Turkey's dreams. For the time being, it has only Qatar left as a close friend and ally.