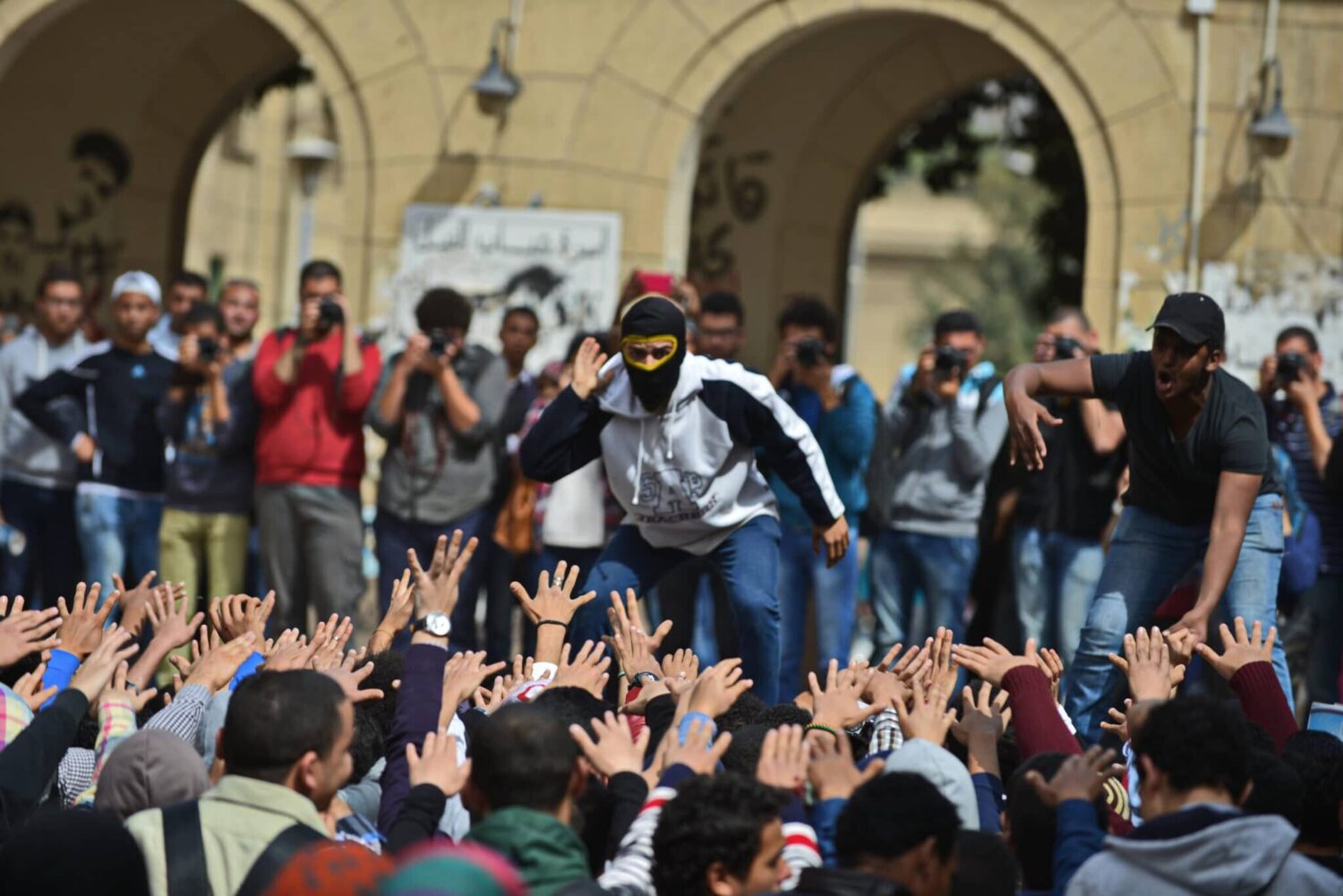 In the middle of the 20th century, Egypt was a popular destination for young people seeking an education. Students travelled from dozens of neighbouring and Muslim-majority countries to pursue a high-quality education at Cairo University or at al-Azhar University, the oldest continuously operating university in the world.
This picture has, however, changed completely since the 1980s. A growing population and little reform in the education system caused it to fall into disarray that led to severely overcrowded and underfunded schools and universities, which have long produced graduates unequipped for the demands of the modern labour market.
So, following the popular uprising in 2011 that overthrew long-time dictator Hosni Mubarak, there were widespread calls for an educational overhaul to solve many of the populous country's problems. Soon after Mubarak was forced from power, there were calls to increase the education budget, reform the obsolescent curricula in schools, increase wages of teachers and university faculty, and liberate universities from the stranglehold of the security apparatus.
Nearly five years later, little has changed in the education system, which is still struggling, despite the few gains made.
Primary education in Egypt is free and compulsory in grades one through nine. Students can then pursue a secondary-education certificate to be eligible for university education. Most students are enrolled in public schools and the country's 23 public universities, which are free for all Egyptian students. In 2012, about 13 per cent of students were enrolled in private schools, which are becoming increasingly expensive, and many students from well-off families are opting to enroll in one of the country's 19 private universities or the 81 private higher-education institutions.
Despite the political unrest prevailing since 2011, there has been a substantial, if gradual, increase in public expenditure on education. In the 2015-2016 budget, education expenditures have increased 75 per cent over the 2011 values, to 99 billion EGP ($12.3 billion). This increase keeps it at about 11.5 per cent of total expenditure and about 3.5 per cent of GDP, which is lower than most neighbouring Arab states. Most of this money, however, goes towards the still notoriously low salaries of teachers and university faculty. On average, the salary of a teacher is 800-1500 EGP, which is approximately $100 to $190.
School Reform
Education in Egypt remains mired in rote learning rather than encouraging free and scientific thinking. Students are expected to receive and memorize information and to recall it during tests that determine which faculties they would be eligible for, depending on their scores. The number of students in classes sometimes contain more than 70 students, making it impossible for teachers to address the needs of all students. Many schools lack basic equipment, computers, and laboratories.
Private schools are attended by children from well-to-do families. Most students, even those in the free public schools, have to take private tutoring classes in the afternoon or evening because the education available in schools is so poor that the students' success is not assured.
The poor education available in schools has led to the creation of a parallel, unofficial education system based on private tutoring, which consumes a large part of most families' annual income. Schools are often empty, and families opt to send their sons and daughters to these private tutoring classes instead, hoping they will be admitted to better universities and the faculties of their choice. According to a BBC Arabic report, Egyptian families pay about 20 billion EGP annually on private tuition.
President Abdel Fattah al-Sisi has announced a focus on improving education, and his previous cabinet announced an ambitious plan to improve education that extends to 2030. This includes providing meals in public schools, eliminating illiteracy, and reducing the number of students in each classroom and the number of dropouts. The ministry also promised plans to reevaluate all books and curricula and announced that they have already changed 30 per cent of those teaching materials for the academic year 2014-2015.
University Reform
Following the 2011 uprising, university students and faculty made several gains in promoting democracy in universities and protecting them from police interference. A court ruling after the ouster of Mubarak ended 30 years of police presence in universities, banning them from entering campuses. This was welcome by most students and faculty, but some lamented the security gap it left, which led to increasing violence on campuses.
Protests by both students and faculty also led to a change in the long-held practice of Egypt's president appointing university rectors and deans, after conferring with state security and the education ministry. This was replaced by a system under which university leaders were elected. This system had its shortcomings, with the risk that elections might be swayed by popularity or by favours promised, rather than being decided by merit. However, most faculty welcomed the change that increased the independence of universities.
Things changed after the military's popularly-backed ouster of the first freely elected Egyptian president, Mohammed Morsi, in July 2013. A continuing rise in violence on campuses, along with almost daily protests by supporters of the ousted president, saw the police return to campuses to disrupt demonstrations against the regime, often violently. Then, in late June 2014, newly appointed president al-Sisi issued a presidential decree reversing university elections and returning to appointments by the president and the government.
"It is like taking one step forward and two steps back," said an undergraduate student at Cairo University, who preferred not to be named. "We made some gains in our universities, but we have seen almost all of them rolled back now, and national security now interferes in the university more than ever before."
In late 2014, the president formed an advisory council on education and scientific research, tasked with coming up with comprehensive methods of reforming university education and addressing its shortcomings. One of the first suggestions offered by the council may lead to the end of free education. Tarek Shawki, the head of the council, has announced a proposed system under which university students would be eligible for a waiver of tuition fees only if they maintain average grades of about 70 per cent. If they drop below this, they would be required to pay partial tuition fees, and those who fail would pay full fees the following year.
While several university rectors welcome the new system, it drew angry opposition from many educational groups, as it would be the first time that free education has been called into question in Egypt since 1962, when it was introduced by the socialist president Gamal Abdel Nasser.
"It's not the students' responsibility to pay the price for a failing educational system," Kamal Mougheith, a researcher at the National Center for Educational Research, told al-Fanar Media. He argues that the suggested reforms fail to treat education as a human right and that it will not be based on merit because the admission process is itself biased.