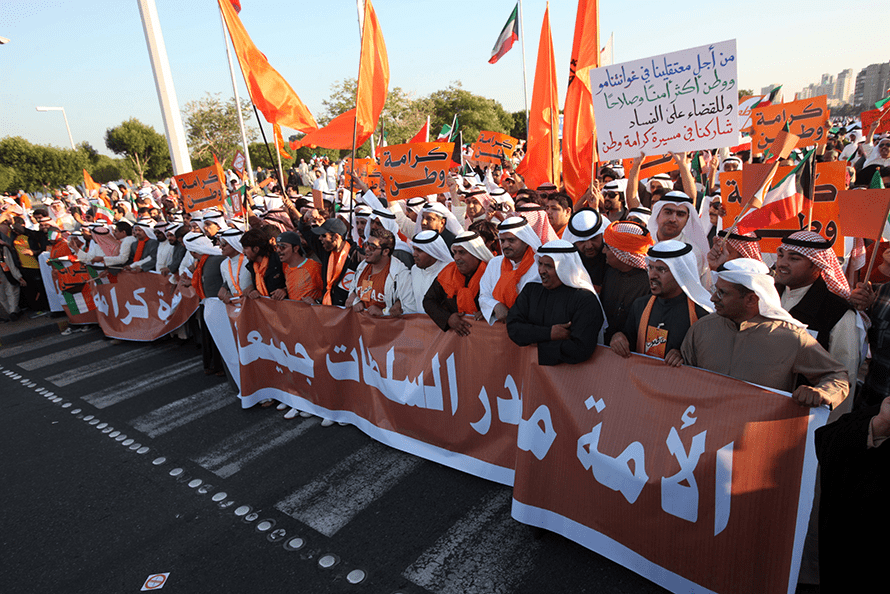 The already tense political standoff between the government and National Assembly has intensified since October 2012. Kuwait's Emir dissolved the reinstated (pro-government) National Assembly early October in response to the opposition's demand following allegations of corruption.
Later in October, the Emir used his constitutional authority to issue an emergency decree to change the electoral constituency law. On the basis of this decree the number of candidates Kuwaitis can vote for has been reduced from four to one.
In response to the decree, thousands of Kuwaitis staged unprecedented protests. The riot police used tear gas and smoke bombs to disperse the protesters. One prominent opposition leader, former MP Musallam al-Barrak, was arrested and charged with undermining the authority of the Emir in a speech. His arrest sparked new protests.
Three other former MPs were charged with insulting the Emir. The Ministry of Interior subsequently banned all gatherings of more than twenty people. Protests in Kuwait have been confined to Irada (Determination) Square, opposite the National Assembly, where demonstrations and manifestations usually are tolerated. Protests in other parts of Kuwait are forbidden.
The elections of 1 December 2012, boycotted by the opposition, led to a lower voter turnout than in previous years and a victory for pro-government candidates. Shiite candidates, who are known to be pro-government, won 17 out of 50 seats. Sunni Islamists and tribal candidates lost. In addition, three women were elected for the second time.
The opposition, having lost its position in the National Assembly, has since been staging regular protests demanding the abolishment of the new Parliament and the withdrawal of the one-vote decree.
However, in January 2013, the pro-government National Assembly approved the latter decree, in addition to other decrees the Emir had issued after he had dissolved the National Assembly.
It passed an anti-corruption decree and more significantly, a national unity and anti-hatred decree, which stipulates long prison terms for those who undermine national unity or make discriminatory remarks against a group of people, sect or tribe.
Unlike in other Arab countries, Kuwaiti protesters have not been calling for the overthrow of the ruling monarchy, but instead demanded political reforms such as an elected Prime Minister and legalization of political parties.