Introduction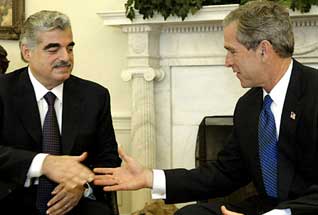 However successful in the political and diplomatic field, the economy was in a dire state, with wages plummeting, prompting strikes and riots. Karameh stepped down in May 1992. Rashid al-Solh governed the country until the elections in August 1992 – the first parliamentary elections since 1972.
These elections – heavily gerrymandered and boycotted by several Maronite leaders – brought self-made man (earning his fortune in the Saudi Arabian construction industry) and billionaire Rafic Hariri to power. As Prime Minister, he undertook a huge reconstruction programme, aiming chiefly at the rebuilding and renovation of the capital, Beirut.
This reconstruction programme – including prestigious projects such as the rebuilding of the Grand Serail, the monumental Government Palace built in the 19th century and heavily damaged – made considerable progress.
As a businessman, Hariri knew how to attract investors from the oil producing countries. Even before becoming Prime Minister, he had invested large amounts of money in Lebanese real estate, like so many of his compatriots who had left the country.
This reconstruction came at a price, though. It was financed through borrowing, and led to a huge governmental debt load. Tax rates were reduced to attract and encourage investment. This in turn led to severe budgetary austerity, resulting in limited investment in Lebanon's social infrastructure and a growing reliance on indirect taxation.
Hence, the gap between rich and poor – and between Beirut and the peripheral provinces – increased considerably. A small proportion of Lebanese became very rich, with one in three living below the poverty line in 1998. Democracy, though, was partially revived. In the summer of 1998, Lebanon held its first municipal elections in 35 years.
Yet even this reconstruction period was not entirely peaceful. Israel continued to occupy a large part of southern Lebanon, which it considered a buffer zone. Hezbollah continued its armed resistance against the Israeli Armed Forces and its Lebanese collaborators, the South Lebanon Army (SLA).
Late July 1993, Israel started what was later called the Seven Day War, after Hezbollah rocket attacks on an Israeli village. A ceasefire was reached after a week, negotiated under the auspices of the United States. But again, this ceasefire was not fully respected.
In April 1996, Israel launched another big military offensive, which resulted in some 300 civilian deaths, in particular in the Qana village. The damage was considerable. The agreement ending this war allowed Hezbollah to continue its armed resistance.
In 1998, general Émile Lahoud was elected president, in the context of an international economic crisis. Lahoud, who was staunchly pro-Syrian, clashed with Hariri and appointed Salim al-Hoss as Prime Minister. Al-Hoss' cabinet had the task of reforming the economy.
Its austere policy and tax measures, however, were unpopular and although the Lebanese pound gained strength and the finances of the state were on their way to recovery, Hariri won the 2000 elections by a landslide and was reinstated as Prime Minister.
However, he was still on bad terms with President Lahoud and, increasingly so, with his Syrian backers. In September 2004, UN Security Council Resolution 1559 (a French initiative supported by the US), demanding the withdrawal of 'all remaining foreign [i.e. Syrian] forces' as well as the disarmament of Syrian-backed Hezbollah, did not ease relations.
In October 2004, Hariri presented the resignation of his government. Omar Karameh, who had been Prime Minister before and, like Lahoud, was said to belong to the 'pro-Syrian camp', succeeded him.
Assassination of Hariri
On 14 February 2005, a massive truck bomb killed Rafic Hariri (together with 22 others) on the streets of Beirut. Many pointed fingers at Syria as the instigator. This spurred pro-Syrian groups to organize a big demonstration on March 8, in which Hezbollah and Amal played a central role, with some secular and Greek Catholic and Maronite groups, like the Free Patriotic Movement, led by Michel Aoun, who had just returned to his country after fifteen years of exile in France.
The accusations against Syria were explicitly repeated in the report of a UN investigation commission, led by Detlev Mehlis, appointed a couple of months after the murder. Both the report and Mehlis' rather premature conclusions were met with fierce criticism, particularly in (pro-)Syrian circles.
In 2007, a Special UN Tribunal for Lebanon was created to 'try suspects in assassination of Hariri'. Two years later, the Tribunal, located near The Hague in the Netherlands, was instated and its members sworn in. Five suspects were released for lack of evidence. In the spring of 2010, the Tribunal's investigators questioned several members of Hezbollah.
The Hariri murder was one in a series of politically motivated murders or attempted murders of politicians and journalists, particularly between 2004 and 2006. Two other politicians and two journalists were either killed or seriously injured during that period, which also saw many bomb blasts in and around Beirut.
After the murder of Hariri, large gatherings of mainly young people took place on the symbolically named Martyrs Square in central Beirut, where Hariri was buried. These gatherings, culminating in a massive demonstration on the 14th of March, were meant not only to express the popularity of Hariri – who, as opposed to most other political leaders, was not a descendent of a ruling clan, but a self-made man of poor Sunni origin – but also the will of a large part of the Lebanese people to overcome the fractures between religious communities.
Last but not least, the demonstrators demanded the departure of the Syrian troops, in conformity with UNSC Resolution 1559. These demonstrative gatherings eventually led to the creation of the March 14 Alliance, a large coalition around the late Hariri's Future Movement, headed by Hariri's son Saad, characterized by a pro-western, anti-Syrian stance, and composed mainly of Sunni, Maronite and Druze parties, but including some Shiite politicians and small secular groups.
President Émile Lahoud's term was supposed to end in October 2004. However, the Parliament had voted for a law allowing him to remain in office for another three years – having been strongly 'advised' to do so by Syria, according to Lahoud's critics – the UN report on the Hariri investigation even speaks of intimidation.
In the May and June 2005 parliamentary elections, the March 14 Alliance – including both Hariri's Future Movement and Druze leader Jumblatt's Progressive Socialist Party – won 72 out of the 128 seats. The Amal-Hezbollah coalition, united under the March 8 Movement banner, won 35 seats. Michel Aoun, who joined forces with Suleiman Franjieh, won 21. The winners were accused of fraud and buying votes.
In several districts, each of which was, as usual, assigned to a particular religious community, voters had no choice, as there was only one candidate and/or one list – regardless of whether these districts belonged to the majority or the opposition. In some districts the lists even combined the ruling parties and the opposition. Finally, the elections were spread out over four Sundays. These and other factors made the elections far from perfect.
Fouad Siniora, who was Rafic Hariri's Finance Minister, was appointed Prime Minister and took office in July. For the first time, the cabinet included one Hezbollah member and one very close ally. Indeed, on 10 June 2005 Hezbollah leader Nasrallah announced: 'From now on we are prepared to take full responsibility at all levels of state institutions.' Siniora was widely praised for his adroit handling of the delicate situation and his efforts to restore a form of national unity, however fragile.