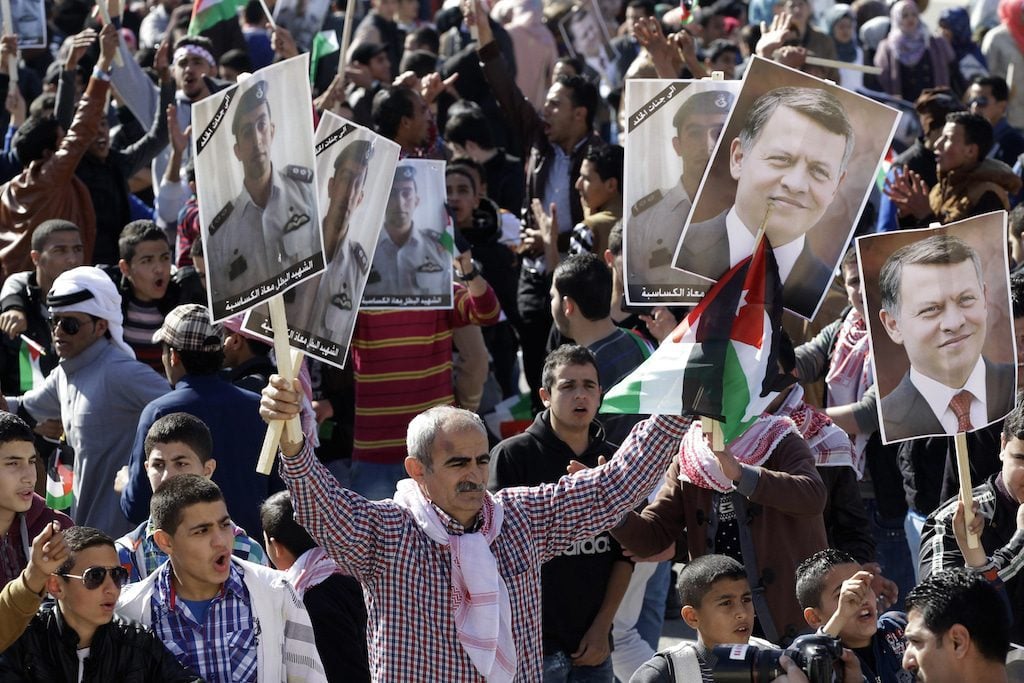 Introduction
The state of human rights in Jordan is described, by those interviewed in this article, as fairly good. The issues of main concern for human rights advocates over the past few years have been freedom of expression, refugees, prison inmates, and women.
Officials insist, however, that authorities are keen to carry out reforms that guarantee better human rights conditions in the Kingdom and that such reforms sometimes need to be pursued gradually, due to the sensitive situation in the unstable Middle East.
According to article 7 of Jordan's Constitution, "Personal freedom shall be guaranteed."
Article 15 of the constitution says, "The State shall guarantee freedom of opinion. Every Jordanian shall be free to express his opinion by speech, in writing, or by means of photographic representation and other forms of expression, within the limits of the law.
Freedom of the press and publications shall be ensured within the limits of the law.
Newspapers shall not be suspended from publication nor their permits be withdrawn except in accordance with the provisions of the law."
On 27 January 2016, Human Rights Watch (HRW) said in its World Report 2016 that authorities in Jordan missed an opportunity to remove vague and overly broad charges from the country's Penal Code and Counterterrorism Law, that are used to curtail free expression.
Jordan prosecuted activists, dissidents, and journalists for speech offenses, relying largely on 2014 amendments to its Counterterrorism Law that broadened the definition of terrorism and included acts such as "disturbing [Jordan's] relations with a foreign state." In February 2015, a court sentenced Zaki Bani Irsheid, a senior Muslim Brotherhood official, to 18 months in prison for a Facebook post criticizing the United Arab Emirates, HRW said.
"Jordan's concerns over its security situation shouldn't translate into branding journalists and dissidents as security threats merely for doing their jobs or expressing themselves peacefully," said Sarah Leah Whitson, HRW's Middle East director. "Jordan should revise its terrorism law and penal code to remove vague language used to limit peaceful speech."
These concerns were echoed by the Kingdom's National Centre for Human Rights (NCHR), which is an independent entity that has a juridical personality with full financial and administrative independence in carrying out its intellectual, political, and humanitarian activities related to human rights.
But Basel Tarawneh, the government's coordinator for human rights, said, in a phone interview with Fanack in early February 2016, that Jordan has made noticeable progress in areas such as protecting prisoners against mistreatment and promoting gender equality, adding that a comprehensive national strategy for 2016-2020 has recently been drafted and approved by the government.
Freedom of Expression
The NCHR report of 2014, criticized the government for amending the anti-terror law as it limits freedom of expression, claiming that several journalists and key figures of professional unions were imprisoned for expressing their views on certain local and regional issues.
But government spokesman Mohammad Momani said, in comments to Fanack in early February 2016, that freedom of expression in Jordan is guaranteed and protected, but that some electronic media journalists and unionists use digital media to slander people and commit character assassination.
"There is a difference between responsible and professional media, and media that uses libel to insult people," he said, adding that no Jordanian has ever been jailed for expressing their political views.
Nidal Mansour, president of the Centre for Defending the Freedom of Journalists, however, told Fanack in a phone interview on 10 February 2016 that there have been several cases of journalists being jailed for reporting on what he called sensitive issues related to national security.
He cited the case of Ghazi Marayat, a journalist for al-Rai daily newspaper, who was prosecuted after he published a report detailing a foiled terror plot, in spite of a gag order preventing media outlets from further publishing about the case.
Mansour and Tariq Momani, president of the Jordan Press Association, insist that journalists should not be jailed simply for doing their job.
Refugees
HRW and other human-rights advocates have previously criticized Jordan for no longer allowing Syrian refugees into the Kingdom — which, according to official figures, currently hosts about 1.3 million refugees from its war-torn northern neighbour.
The government recently acknowledged that 16,000 Syrian refugees were stuck at the Jordanian border and were refused entry.
The government's spokesperson said, however, that there has been no major shift in Jordan's policy towards receiving refugees and that it maintains its open-border policy, but that the Kingdom has the right to protect its security, as those refugees came from areas in eastern Syria, the stronghold of the so-called Islamic State (IS) terror group.
The remarks of Momani were echoed last week by Prime Minister Abdullah Ensour, who told journalists that the Syrians camped in no-man's land on the Jordanian border arrived suspiciously "smoothly" in the border area, as though they had been "escorted" there in order to get them into Jordan.
Inmates
The NHCR mentioned in its report that some people have been detained without being sentenced and that some inmates have been mistreated in correctional centres.
The centre also criticized the government's execution of 11 men convicted of murder in December 2014 and called for scrapping the death penalty, which had been on hold since 2006. Following IS burning Jordanian air force pilot Muath al Kasasbeh to death, Jordan carried out the executions of two Iraqi "terrorists", one of whom was convicted in the bombings of Amman hotels in 2005 that killed dozens, and named in a prisoner-swap request by IS.
But Tarawneh said that the government's human rights coordination agency headed by him contacted security agencies concerning inmates, who confirmed that all detainees in Jordan are held on judicial warrants. He also said that the agency makes periodic visits to detention centres to check on the treatment of inmates.
Concerning the death sentence, a government official who requested anonymity said that it is Jordan's right to use it anytime it considers it appropriate, and that "criminals" who had committed horrendous crimes are sentenced to death.
Women
Perhaps one of the most important issues stressed by women's rights activists in Jordan is the issue of Jordanian law defining the transfer of nationality through paternal bonds. Advocates are campaigning for granting Jordanian nationality to the children of Jordanian women married to foreigners – including non-Jordanian Arabs, such as Palestinians.
Authorities refused to do so, and agreed only to grant these children civil rights equal to those of Jordanian citizens, in terms of such privileges as employment, education, health insurance, and property ownership.
Authorities say that granting those children Jordanian citizenship would affect the demography of the country, as there are tens of thousands of children whose mothers are Jordanian nationals, but are themselves considered non-Jordanian.
On the future of human rights in Jordan, Tarawneh said that Jordan is amongst the regional leaders in this field, noting that the Kingdom is the only one to draft a comprehensive strategy to advance human rights.
"Enhancing human-rights conditions is a top priority in Jordan's reform drive. Positive changes will be felt in the medium term," he added.